meet-your-nbcc-team-tory-watkins-cherry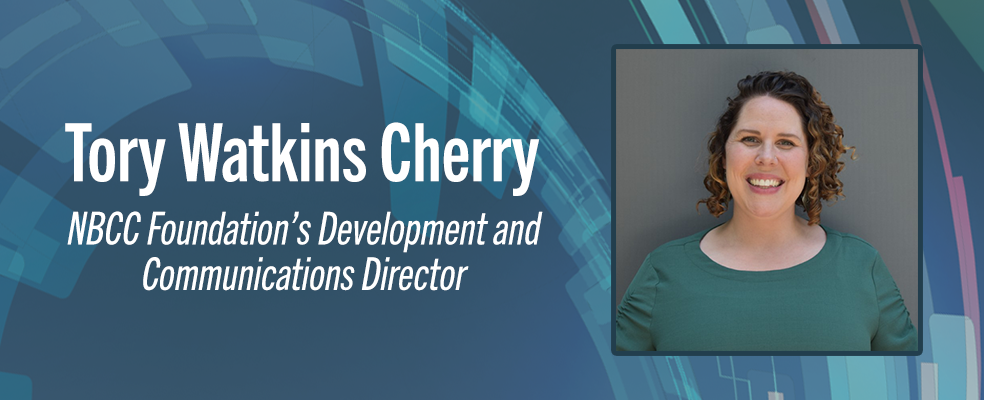 When did you begin working with NBCC, and how did you arrive?
I began working at the NBCC Foundation in February 2019 as the Constituent Management Coordinator, which meant that I worked to track all donations made to the Foundation as well as worked on donor communications, some Foundation social media, and helped with planning our annual events.
Prior to NBCC and living in Greensboro, I worked for a small, grassroots nonprofit community art organization in Louisville, Kentucky. We provided creative arts-based approaches to advocacy and education for kids and teens from preschool age all the way to high school students. Our programming served communities that lacked access to arts initiatives and process-based approaches to learning.
Since graduate school, I have always been interested in nonprofit spaces. I have worked in many areas of nonprofit life, including volunteer coordination, development, grant-writing, events, and fundraising, all for either local or statewide nonprofit organizations. I always knew I wanted to be in a "helping" type profession and this space has allowed me to explore different areas of nonprofit work as I have moved.
What is your role with NBCC?
My current job at the NBCC Foundation is as Development and Communications Director. In this role, I work to implement fund development strategies to increase available scholarship and programming funds. I also oversee all aspects of the Foundation's communication operations, including the Foundation Connections monthly e-newsletter, website content, internal and external stakeholder communications, and our social media presence.

What do you enjoy about your work with NBCC?
I truly enjoy getting to hear and be a part of telling the stories of our fellowship and scholarship recipients. They are all doing much needed work to serve communities of people who are ignored and shut out of opportunities or access to mental health care due to the systemic problems and disparities in our country. It has been especially hard this last year not getting to see our fellows and scholars in person several times a year and interact with them or hear as in depth about the work they are doing in their own communities. They are all overcoming tremendous hurdles in their own lives while still working to study and provide services for others. It is also exciting to see program alumni come back and become engaged in the Foundation's programs either as presenters, trainers, mentors, or in other volunteer roles.
What are your interests outside of NBCC?
Outside of NBCC and my work, I stay incredibly busy with my almost 3-year-old daughter. She keeps my husband and I on our toes on a regular basis. With the pandemic keeping us home most of the time over the last year, we enjoy spending time with her and playing lots of make believe, utilizing our many TV streaming networks, and getting outside on walks around our neighborhood as the weather allows. Working from home over the last year has also allowed me more time to cook and exercise on a regular basis. Once we begin traveling again, we plan to see different family members who live several states away as well as spend some time in the Western NC mountains this summer.

Who is someone you look up to in the field and why?
Several of my classmates in graduate school were earning a dual MDiv and MS degree in clinical mental health counseling. I have always admired one of my classmates, Lanta, who is a professional counselor in Atlanta, Georgia. She is a strong advocate for her local community through mental health initiatives and in religious spaces that actively work towards inclusion for LGBTQ+ individuals and has also been active in anti-racist work among the religious community there.
I also admire so many of the fellows and scholars we work with each day through the Foundation's Minority Fellowship Program and scholarship programs. It is incredible to hear their journeys of how they got to where they are today and also see the great work they are doing in many underserved areas around the country and world.
---
Share On Social Media:
---
Read more articles