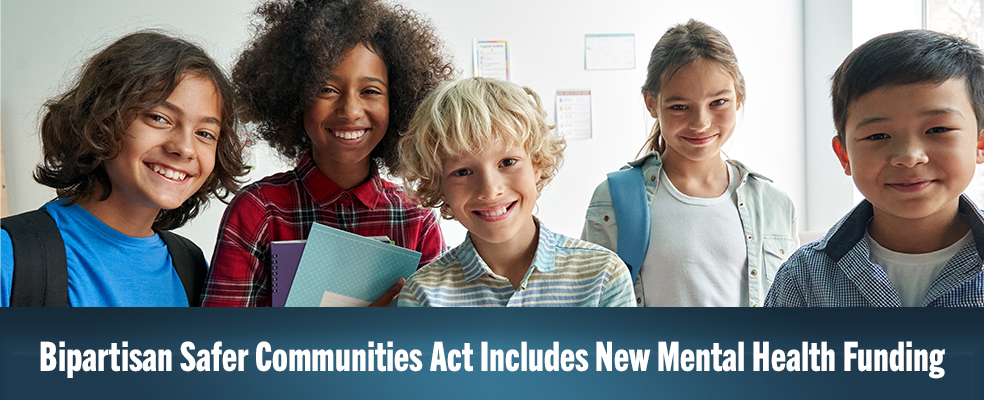 President Biden has signed bipartisan legislation that is the most comprehensive federal gun safety measure in years and includes billions in mental health funding. Passage of the legislation comes on the heels of multiple recent mass shootings.
Details of the Bipartisan Safer Communities Act
The legislation, known as the Bipartisan Safer Communities Act, provides $750 million for states to enact "red flag laws," which allow the courts to temporarily remove a firearm from an individual deemed to be a threat to themselves or others.
The legislation will strengthen background checks and close the "boyfriend" loophole. Prior federal law prevented individuals from purchasing firearms if they have been convicted of misdemeanor domestic violence and have been married to, lived with, or have a child with the victim. But that legislation did not ban firearm purchases for abusers in other romantic or intimate relationships, a gap commonly known as the boyfriend loophole. The Senate bill includes a 5-year period during which those who are convicted of committing an assault against an intimate partner must wait to obtain a firearm. If no other offenses are committed, then that person will be removed from the National Instant Criminal Background Check System.
The bill requires those under 21 who want to purchase a firearm to undergo a background check that takes into account a review of juvenile and mental health records. The legislation is also expected to curb the illegal trafficking of guns known as straw purchases, where someone can acquire a gun for someone else.
The following are some of the bill's mental health-related provisions:
Expansion of Certified Community Behavioral Health Centers
The Bipartisan Safer Communities Act will expand "Certified Community Behavioral Health Centers (CCBHCs)" by allowing any state or territory the opportunity to apply to participate in the current demonstration program, while allocating additional planning grant monies for states to develop proposals to participate.
Originally set up in in eight states through a Medicaid demonstration (with two states added shortly thereafter), CCBHCs are clinics that offer an expanded range of services—including 24/7 access and crisis services—to anyone who walks in the door, regardless of their ability to pay.
Increased Funding for Children's Mental Health Services
There is a significant investment in mental health services in the bill to improve mental health access for children through the Medicaid program and the State Children's Health Insurance Program (S-CHIP). The bill's mental health funding for children and their families will:
provide $80 million in grants to support pediatric care specialists who want to access mental health expertise in their patients' treatment.
appropriate $60 million over the course of 5 years for training in mental health for clinicians who treat children.
appropriate more than $120 million over 4 years to provide training for community members and first responders to treat individuals with mental health disorders.
provide $250 million for states, the District of Columbia, and U.S. territories to enhance community mental health services.
appropriate $240 million over 4 years to increase awareness of mental health among school-aged children, help staff detect mental distress in students, and help those students connect with services to help them. There is also $28 million set aside for grants to support trauma care in schools.
appropriate $40 million over 4 years to improve services for children and their families who have experienced trauma.
appropriate $150 million to support the implementation of the 24-hour 9-8-8 Suicide and Crisis Lifeline for those in distress.
The bill will also expand mental health services in schools by:
providing $500 million through the School Based Mental Health Services Grant Program to increase the number of mental health professionals for schools with districts that demonstrate the need for those services.
providing $500 million to the School Based Mental Health Service Professionals Demonstration Grant to train and diversify the pipeline of counselors, social workers, and psychologists in schools.
providing $1 billion through Title IV-A to support activities to improve conditions for student learning, such as developing positive school climates through evidence-based practices.
providing $50 million to the 21st Century Community Learning Centers program, which funds after-school and summer programs, with a new focus on programs for older youth.
providing $300 million through the STOP School Violence Act to institute safety measures in and around schools, support school violence prevention efforts, and provide training to school personnel and students. No funds under the Elementary and Secondary Education Act are allowed to be used to train or equip any person with dangerous weapons in schools.
What's Next for Congressional Mental Health Policy
Though the Bipartisan Safer Communities Act moves several billions of dollars to mental health and makes other key legislative changes, there are still several other pending policy issues that are top of mind for many policymakers and behavioral health advocates not addressed by the bill. Some of those key issues include strengthening the behavioral health workforce, increasing reimbursement to providers, and mental health parity. Some observers believe the bipartisan gun-related legislation portends well for addressing other mental health initiatives currently under consideration by the Senate Finance Committee and House Ways and Means Committee, which are developing comprehensive mental health policy packages expected to be released this summer.
NBCC will be monitoring closely the work of these congressional committees and other key legislative bodies and will continue to meet with key members of Congress advocating for mental health legislative policy priorities.
Read more about the Safer Communities Act.