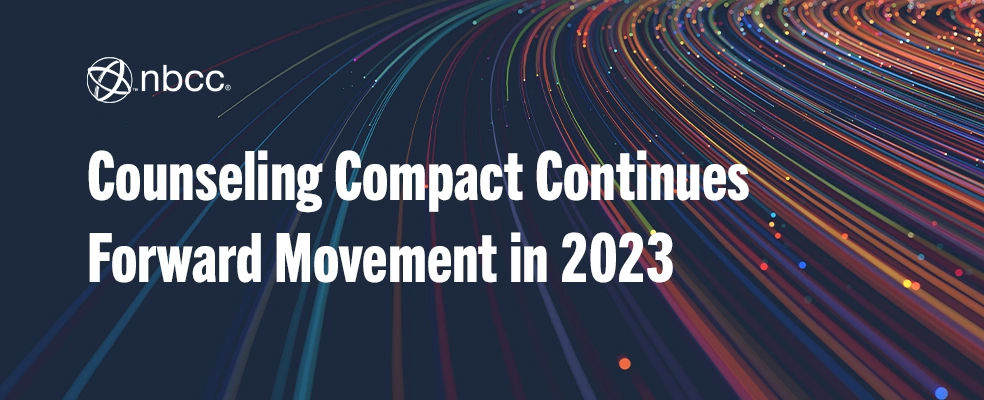 The Counseling Compact continues to build momentum in 2023 with 19 states currently considering legislation to join. The 19 states that have introduced bills are Arizona, Arkansas, Connecticut, Hawaii, Illinois, Indiana, Iowa, Kansas, Minnesota, Missouri, New Jersey, New York, North Dakota, Oklahoma, South Carolina, Virginia, Vermont, Washington, and Wyoming. Passage of these bills will allow them to join the Counseling Compact Commission, which is currently composed of the 17 states that previously passed legislation to become part of the compact.
The 2023 bills are making their way through legislative committees and public hearings for consideration. NBCC is working in conjunction with the American Counseling Association, the National Center for Interstate Compacts, and various state associations to push these bills to success. We encourage all NCCs to advocate for legislation in their state by visiting our action center at votervoice.net/NBCCGrassroots/Home. Here you will find detailed information about the compact and ways to easily contact your representatives to let them know why your state should join the compact. The privilege to practice across state lines will expand the reach of counselors and help to address the increasing need for mental health services.
In addition, The Counseling Compact Commission held its inaugural meeting in October 2022, and will now have regular, public meetings to oversee the compact implementation. This includes promulgating the rules to operationalize the compact, creating a budget, hiring staff, and developing a database system. Once this implementation work is complete, the commission will be ready to bestow privileges to practice for counselors licensed in member states. This is expected to occur toward the end of 2023 or in early 2024. Commission meetings are open to the public, and meeting minutes and upcoming meetings will be posted here: counselingcompact.org/compact-commission/meetings.
The 17 current member states of the Counseling Compact are Alabama, Colorado, Delaware, Florida, Georgia, Kentucky, Louisiana, Maine, Maryland, Mississippi, Nebraska, New Hampshire, North Carolina, Ohio, Tennessee, Utah, and West Virginia.
NBCC is proud to be an ex-officio member of the Commission along with the American Counseling Association (ACA), American Mental Health Counselors Association (AMHCA), and the American Association of State Counseling Boards (AASCB). We will continue to represent NCCs and the counseling profession in this important endeavor. Learn more about the Counseling Compact and keep up with the latest news at our Grassroots Action Center.