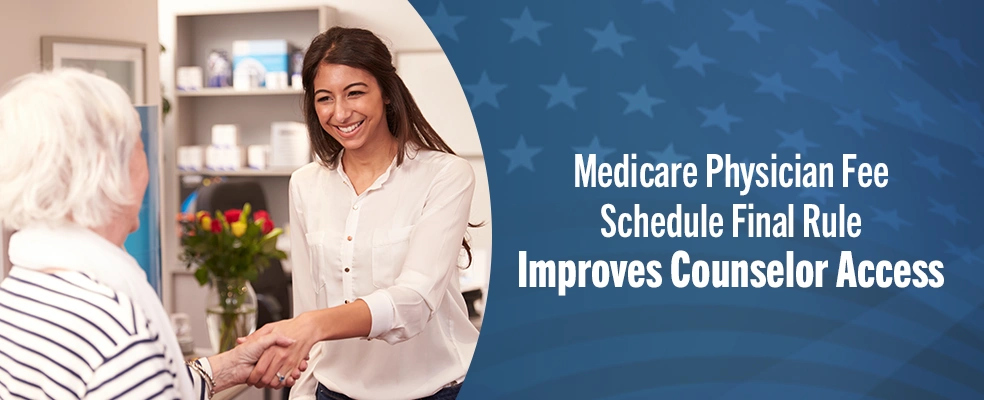 The Centers for Medicare & Medicaid Services (CMS) have released the 2023 Physician Fee Schedule final rule, which expands the role of counselors within the program.
The new provision adds an exception to the direct supervision requirements under the "incident to" regulation. It allows auxiliary personnel such as licensed professional counselors to provide services under the general supervision, rather than direct supervision, of a physician or non-physician practitioner (NPP) when these services are incident to the services of a physician or NPP.
"Access to services promoting behavioral health, wellness, and whole-person care is key to helping people achieve the best health possible," says CMS Administrator Chiquita Brooks-LaSure in a press release. "The Physician Fee Schedule final rule ensures that the people we serve will experience coordinated care and that they have access to prevention and treatment services for substance use, mental health services, crisis intervention, and pain care."
According to CMS, the final rule also clarifies that any service primarily for the diagnosis and treatment of a mental health or substance use disorder can be provided by auxiliary personnel under the general supervision of a physician or NPP who is authorized to furnish and bill for services provided incident to their own professional services.
This rule will expand access to licensed professional counselors and marriage and family therapists for Medicare beneficiaries beginning Jan. 1, 2023.
In September, NBCC submitted comments to CMS advocating for greater use of licensed professional counselors to help reduce workforce shortages and ensure Medicare patients receive the mental and behavioral health care they need. The final rule reflects the changes that NBCC supported.
"While NBCC celebrates this rule, we also continue to advocate for direct billing to Medicare for all counselors," says NBCC Legislative Research Manager Jolie Long. "The only way to ensure mental health counselors can bill Medicare in all settings is passage of the Mental Health Access Improvement Act." Visit our Grassroots Action Center to contact your senators and representatives and encourage them to vote in favor of this important legislation.
Learn more with the CMS fact sheet.