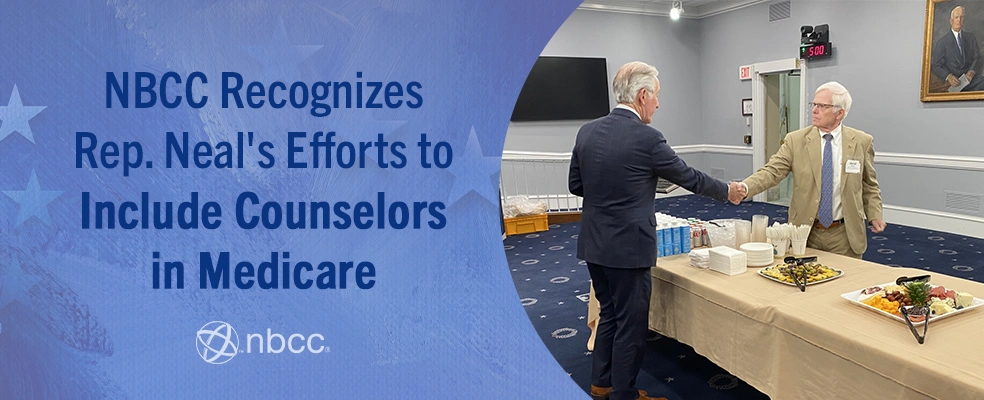 On June 6, the Medicare Mental Health Workforce Coalition honored U.S. Rep. Richard Neal (D-MA) at a formal reception for his leadership as Chair of the House Ways and Means Committee in passing Medicare coverage of counselors and marriage and family therapists as part of the 2023 federal omnibus budget legislation. As an active member of the Medicare Mental Health Workforce Coalition, NBCC is incredibly honored to be a part of this exciting event.
The Coalition presented Rep. Neal with an award plaque that reads:
Richard Neal, Chairman of the House Ways and Means Committee

With gratitude for his leading role in passage of the Mental Health Access Improvement Act by the Congress in December 2022

Medicare Mental Health Workforce Coalition
In accepting the award, Rep. Neal thanked the Coalition for their steadfast efforts over the years in advocating for Medicare coverage. In his remarks he said, "I don't think many people understand how difficult it is to amend an entitlement program like Medicare, and I am very proud of this long—and hard fought—accomplishment. Our legislative efforts to expand access through Medicare coverage will improve people's lives and save lives. Our legislation will make a difference."
Rep. Neal highlighted that he observed for several years that families in his district with mental health issues "lived in the shadows for too long because they were afraid to seek care due to stigma and were embarrassed by their mental illness." He related a story of two brothers who lived in his neighborhood. These veterans of World War II were rarely seen outside their home, and their silent struggles deeply affected Rep. Neal's work to fight for those who suffered from a mental illness.
Rep. Neal concluded, "I am proud of the work of the Ways and Means Committee in breaking down access barriers and significantly increasing funding for mental health services, especially over the last 10 years. But we still have a lot of unfinished business to do."
NBCC lobbyists Jake Jackson and Joel Miller represented NBCC at the award reception.