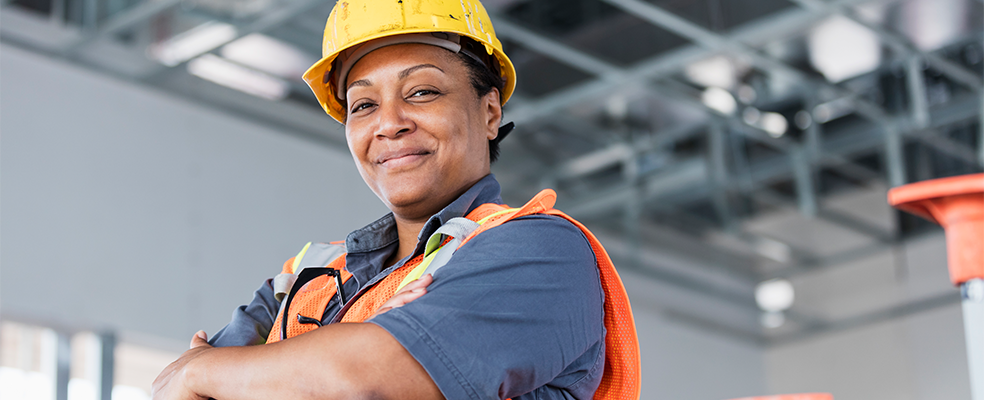 After several months of robust debate, Congress recently passed the Infrastructure Investment and Jobs Act (H.R. 3684), which was signed into law in mid-November. The law calls for expansion of high-speed internet access and substantial investments in energy systems, transportation, the environment, and other aspects of our "built world" over a 5-year period.
Many of the policies and programs included in this legislation also have the potential to impact access to mental health care, counselors, and the counseling profession.
How Infrastructure Can Affect Mental Health
Four forms of public works infrastructure systems—energy, transportation, communications, and waste management—have known connections to mental health. Though these connections are not often studied in counseling graduate programs, the intersections and potential effects on mental health are useful for counselors to consider.

Education and health services are affected by infrastructure and access to services. Access is facilitated by many components, including roads, bridges, transportation, and in the world of telehealth, most definitely communications and technology. Every counselor who provides services via telehealth has likely experienced "low bandwidth/unstable internet" issues in their sessions. In rural communities across the United States, the digital divide significantly limits access to health services in an increasingly technology-driven world.
When energy systems function properly, they keep us safe, productive, and socially connected. When they fail, they reduce access to water and food, jeopardize safety, and limit our connectedness. Failure of these systems is associated with anxiety, depression, sleep problems, and more.[1] The Infrastructure Investment and Jobs Act includes resources for programs focused specifically on these systems.
Transportation systems such as bicycle paths, sidewalks, parks, and trails enable mobility and accessibility and encourage physical activity. Road, air, water, and rail systems provide access to goods, services, and employment opportunities.

Improvements to waste management systems and sites would also reduce negative health effects. We know that people who are exposed to hazardous waste facilities exhibit greater levels of psychiatric morbidity. [2]
Toxins in incinerator emissions have been implicated in neurological, mental, behavioral, and social outcomes such as autism, ADHD, depression, and Parkinson's disease.[3]
Potential Impacts on Counselors and Access to Mental Health Care
In addition to the positive effects of the infrastructure legislation for overall mental health in communities, the legislation also has implications for counselors.
As an example, for the many Americans in need of mental health services, the full potential of telehealth access is out of reach. Though some telehealth services may be accessed by phone alone, the integration of video capabilities through web-based telehealth greatly expands access to information necessary for comprehensive care. More than 40% of adults in poverty earning less than $30,000 a year—a segment at a much higher risk of depression and other mental health challenges—lack home broadband.[4]
Consequently, the broadband provisions in the infrastructure package could have significant repercussions for how counselors provide mental health services across the United States. The legislation will close broadband access gaps in rural areas and help connect a large group of urban residents who have high-speed service available but still aren't online.
This broadband plan could generate significant positive change as more widespread access to telemental health can instantly connect people with counselors and new clients who may be hours away or do not have access to reliable transportation. Increased internet access may improve access to care and could potentially improve outcomes and save lives.
The infrastructure legislation represents the most extensive federal commitment ever attempted to expand broadband infrastructure, and this expansion will significantly impact telehealth access. Counselors now, more than ever, must provide virtual mental health care to clients and having high-speed internet in more communities will increase access to those services.
The changes proposed in this new law have the potential to expand access to mental health services and improve health outcomes. Together, these changes can help make strides in advancing health equity and providing care for underserved and never-served people and communities.

More information about the Infrastructure Investment and Jobs Act can be found here.
1 Abramson, D. M., & Redlener, I. (2012). Hurricane Sandy: Lessons learned, again. Disaster Medicine and Public Health Preparedness, 6(4), 328–329. https://academiccommons.columbia.edu/doi/10.7916/D8SQ9984/download
2 World Health Organization. (2007). Population health and waste management: Scientific data and policy options. https://www.euro.who.int/__data/assets/pdf_file/0012/91101/E91021.pdf
3 North Yorkshire Waste Action Group. (2011). Health risks: Adverse effects from incinerator emissions. http://news.cleartheair.org.hk/wp-content/uploads/2013/04/NYWAG-Health-Risks.pdf

[4] Pew Research Center. (2021, April 7). Internet/broadband fact sheet. https://www.pewresearch.org/internet/fact-sheet/internet-broadband/?menuItem=2ab2b0be-6364-4d3a-8db7-ae134dbc05cd