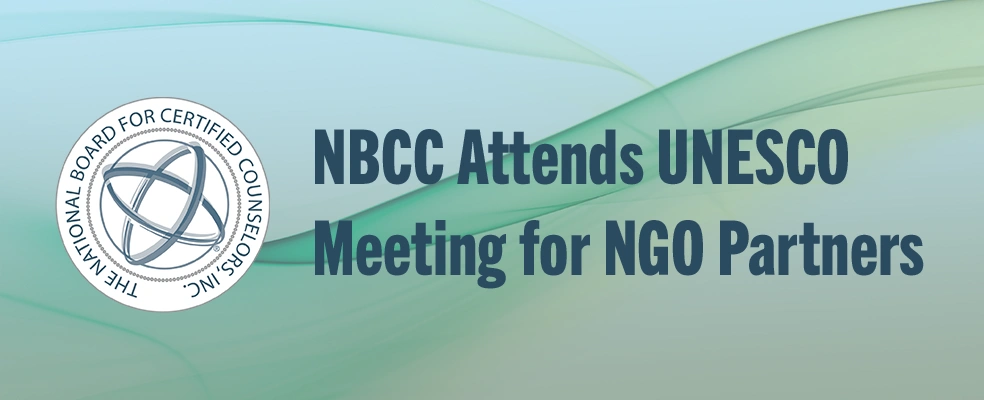 From Dec. 14–16, NBCC participated in the United Nations Educational, Scientific, and Cultural Organization's (UNESCO's) International Conference of NGOs. The theme of the conference was "Breaking Barriers—What Role for Civil Society Organizations Towards a Sustainable Future?"
NGOs are nongovernmental organizations—not-for-profit entities that function free of government influence and often work for humanitarian causes. NBCC has been recognized by UNESCO as an NGO since 2007. In early 2012, NBCC was reclassified as an NGO in consultative status. NBCC strives to leverage the organization's NGO engagement and initiatives to ensure representation by counselors and attention to mental health within the policies, platforms, and programs of UNESCO, as appropriate.
The International Conference of NGOs is held every 2 years. Hundreds of NGOs in official partnership with UNESCO are invited to attend. This year's 3-day meeting featured a packed itinerary. Elections were held for Liaison Committee positions for the next 2 years, with NBCC President and CEO Kylie Dotson-Blake voting on NBCC's behalf.
Dr. Dotson-Blake noted, "Engaging with partners in the UNESCO NGO community at this event is meaningful and important for our global capacity development initiatives. It is valuable to learn about each Liaison Committee's latest developments and to have the opportunity to support our partners' efforts, while we strive to propel conversations around access to mental health services onto the global stage."
UNESCO is a specialized agency of the UN. It contributes to peace and security by promoting international cooperation in education, sciences, culture, communication, and information. Through its relationship with UNESCO, NBCC seeks to improve global equity for mental health care.
Each year, UNESCO solicits voluntary contributions from partner NGOs. NBCC has made this contribution each year since 2013. NBCC additionally submits an annual report to UNESCO regarding its global capacity building efforts.
"NBCC's NGO status from UNESCO has allowed NBCC to firmly establish itself as an independent body to current and prospective international partners," says NBCC Director of Global Capacity Building Dr. Wendi Schweiger-Moore. "In addition, it has served as a point of introduction that has been particularly helpful in NBCC's collaborations in Africa."
NBCC has had long-term engagement with the UNESCO field office in Malawi. This connection has been further enhanced by the recent signing of a Memorandum of Understanding (MOU) between NBCC and the African Union-Southern Africa Regional Office (AU-SARO). Dr. Schweiger-Moore is currently in Malawi, working with representatives from AU-SARO to establish additional partnerships across the region for the implementation of MOU-related initiatives. We look forward to sharing additional information about this work with NBCC constituents and in future UNESCO annual reports.