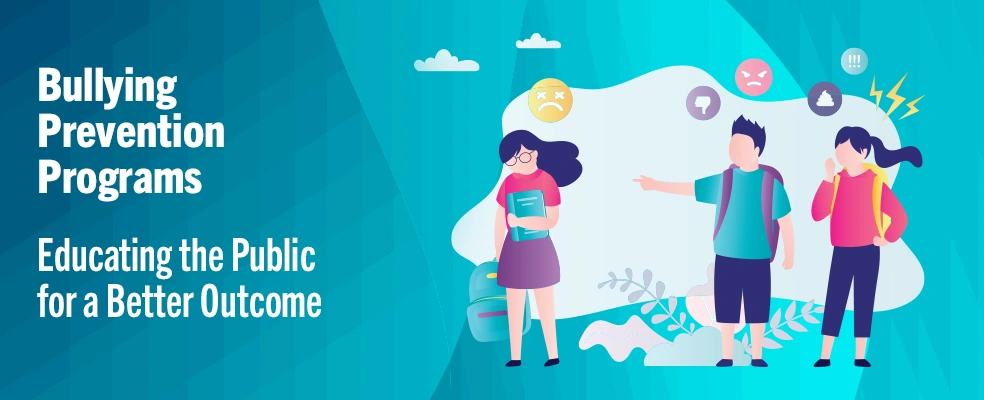 Being persistently bullied has been shown to impact children's mental health in many ways, including the potential for depression, anxiety, substance use disorders, and suicidal ideation. It remains widespread in schools, where it has also been linked to lower academic performance and absenteeism. Fortunately, there are several bullying prevention programs available with helpful information for counselors, schools, parents, children, and those who have been affected by witnessing it.
The Centers for Disease Control and Prevention (CDC) gives bullying a broad definition: "any unwanted aggressive behavior(s) by another youth or group of youths, who are not siblings or current dating partners, that involves an observed or perceived power imbalance, and is repeated multiple times or is highly likely to be repeated." It takes many forms—physical, verbal, social, even damage to a person's property—and social media has created a new avenue where cyberbullying remains a concern.
Bullying is also more common than you may think. The CDC has found that 1 in 5 high schoolers have reported being bullied at school, and 1 in 6 have been bullied online in the past year. Stopbullying.gov, a U.S. government resource, reports similar numbers for students ages 12–18 (20%).
Today there are several bullying prevention programs available for purchase, but the intention of this article is to make readers aware of free resources. We encourage you to do your own research; our inclusion of these programs is not an endorsement.
Bullying is a serious problem with far-reaching effects on mental health. Successful prevention requires a collaborative effort. As counselors working together with students, families, educators, and other school personnel, we can raise awareness, increase sensitivity and respect for others, and create a better environment for students to thrive.