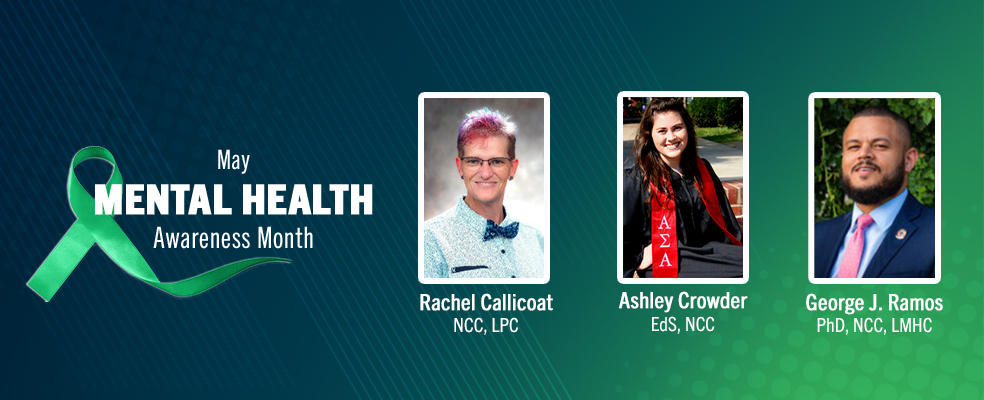 Since 1949, May has been designated as Mental Health Awareness Month, a time to sharpen our focus on the importance of mental health, increasing access to care, and reducing stigma. As we pause and reflect, it's also a time to recognize and support counselors and other mental health professionals across the United States who are devoted to improving the lives of others.
According to the National Institute of Mental Health, nearly 1 in 5 adults in the United States live with a mental, behavioral, or emotional illness. In 2020, that number was estimated to be 52.9 million. Among adolescents aged 12–17, approximately 1 in 6 experienced a major depressive episode.
As for those aged 65 and over, recent studies have shown higher rates of mental illness and suicide, with 1 in 4 suffering from a mental illness or substance abuse condition. These numbers are staggering, and this demographic is the least likely to seek services.
Research confirms that our nation's unprecedented mental health crisis has escalated since the onset of the COVID-19 pandemic, and the need for mental health care is monumental. As advocates, we can educate others about its impact and how they can contribute to a better outcome.
In observance of Mental Health Awareness Month, we spoke with some NBCC Foundation fellows and scholars about the importance of raising awareness in their communities. Rachel Callicoat, NCC, LPC, is a 2015 NBCC Foundation Rural Scholarship recipient working in rural Oklahoma. While pursuing her doctoral degree in counselor education and supervision, she also serves as the Clinical Mental Health Counseling Coordinator and an assistant professor at Southeastern Oklahoma State University. Both counseling and teaching provide her with opportunities to advocate for mental health, she says.
"I am always a counselor first and a professor second, and as such, I raise awareness every time I hold space for a client to work toward healing," she says. "I also believe that to teach great future counselors you have to practice to be one yourself. I strive every day to be consistent in every facet of my life, and I don't think being genuine should only be in the office."
Callicoat says seeing the ripple effect of counseling and teaching is exhilarating.
"I have seen on an individual level what raising awareness for mental health can do on a client/individual basis, but I have also had the ability to see what can happen on a systemic level," she continues. "I know that not only am I helping students get in touch with themselves and become more aware of things that they may be dealing with as they go through the program, but that extends to their families, into their field site, and then into every client they will ever see. It is awe-inspiring and drives my passion to be a better clinician, professor, advisor, and human being."
Ashley Crowder, EdS, NCC, is a 2019 NBCC Foundation Rural Scholarship recipient and school-based therapist in rural Tennessee. She provides mental health services to students and their families for four schools and is working toward her LPC-MHSP. One of her goals is to open a holistic mental health practice in her community. In her role, education is the key to advocacy, particularly where stigma is concerned, she says.
"By educating parents and students on the mental health resources that are available to them and how these services can benefit them, families become more willing to reach out to mental health services," Crowder says. "Many times, therapy and mental health tend to have negative connotations, largely due to stigma that still occurs in my rural community. Having information about the potential benefits of services can put families more at ease.
"We have too many people suffering in silence," she continues. "Some of these individuals are in areas in which there are scarce mental health services available, or they do not know how to get started seeking help. The more that we talk about mental health in a factual manner, the more normalized it becomes, and more light is shed on myths and stigma surrounding it."
George J. Ramos, PhD, NCC, LMHC, is a 2017 NBCC Foundation Minority Fellowship Program awardee. He currently has a private practice, conducts immigration mental health evaluations, is an adjunct professor at New York University and Mercy College, and is a trainer for the City of New York's Administration for Children's Services. One way that Dr. Ramos helps spread the word about mental health is by offering workshops for members of his community.
"I often conduct free workshops surrounding mental health at churches and other places, whether they are about disorders, treatment, or resources, to help people start the conversation regarding mental health counseling, seeking out help, and knowing what help is available."
He recommends exploring your community and finding places to discuss mental health with groups, no matter how small.
"Think about organizations that usually cater to a large number of people and find out whether there is room there for you to reach out and gather people there. Even if you just start with a few people in a small group talking about mental health, soon word tends to get out, and that can really go a long way toward helping others in your community."
Are you interested in making a difference but don't know where to start? Share resources or statistics about mental health on social media or join our Grassroots Movement to help increase access to services.