medicare-mental-health-workforce-coalition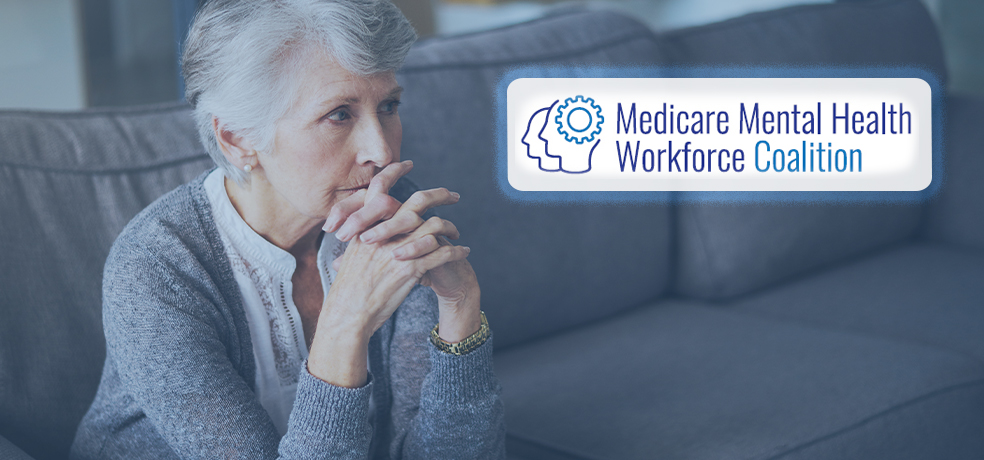 Older adults in America are facing a crisis. The Centers for Disease Control and Prevention estimates that 20% of adults over the age of 55 are suffering from mental health issues, including anxiety, depression, and substance use disorder. Millions more likely go undiagnosed as many Medicare beneficiaries have no access to a mental health professional because of their remote locations and the provider shortages in those areas.

Medicare does not reimburse for psychotherapy services provided by mental health counselors (MHCs) or marriage and family therapists (MFTs). These two professions make up about 40% of the licensed behavioral health workforce in the United States, and they are covered by all other insurance providers, both public and private, aside from Medicare. With these professions shut out of the largest insurer in the country, Medicare beneficiaries do not have sufficient access to mental health treatment.

That is why the Medicare Mental Health Workforce Coalition (MMHWC) is working to strengthen advocacy efforts for the Mental Health Access Improvement Act (S. 286/H.R. 945), which would recognize MHCs and MFTs as covered Medicare providers and allow them to bill Medicare for counseling services. Members of the MMHWC are: the American Association for Marriage and Family Therapy, the American Counseling Association, the American Mental Health Counselors Association, the Association for Behavioral Health and Wellness, the California Association of Marriage and Family Therapists, Centerstone, the National Association for Rural Mental Health, the National Association of County Behavioral Health and Developmental Disability Directors, the National Board for Certified Counselors, and the National Council for Behavioral Health.

The MMHWC, along with bipartisan support from over 100 co-sponsors of the bill in the House and 30 in the Senate, urges Congress to pass the Mental Health Access Improvement Act, which will address the serious gaps in care for Medicare beneficiaries and rapidly increasing hospital costs. The passing of this legislation will add approximately 225,000 mental health providers to the Medicare network, significantly alleviating the access crisis; provide access in rural areas underserved by currently recognized Medicare providers; allow MHCs and MFTs to directly bill Medicare for their services, lowering the strain on our nation's entire behavioral health workforce; and lower the cost of care and improve outcomes before conditions worsen.

The first objective of the coalition's advocacy and media push is to assist members and credential holders in each organization with placing op-eds in local and state-wide newspapers, either to secure new sponsors of the bill or encourage members of Congress who are already sponsoring the bill to ramp up their support. The coalition will also be preparing social media outreach, gathering materials to help members and credential holders interact directly with congressional staff in district offices, and encouraging individuals to email and call their congressional offices.

Over the coming weeks, there will be a variety of opportunities for your voice to be heard. We need your help to make sure our efforts are successful! If you are interested in learning more, visit our Grassroots Action Center, or reach out to govtaffairs@nbcc.org. Our staff is happy to assist you in whatever type of advocacy you are comfortable with. Be on the lookout for information on ways you can share how the lack of Medicare coverage has affected your practice or your clients' ability to receive treatment.
---
Share On Social Media:
---
Read more articles