meet-the-nbcc-communications-team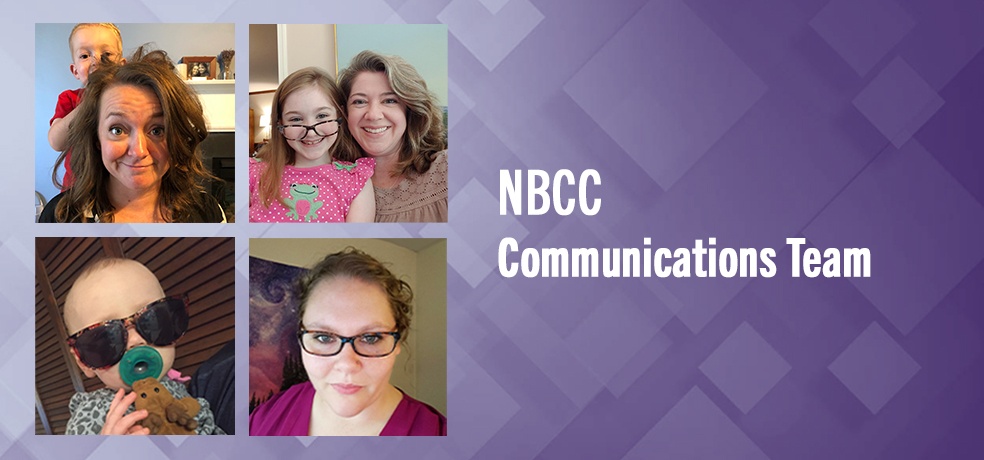 Pictured above: Top left, Nikki Yannone, top right, Gretchen Porter, bottom left, child of Kristin Rairden, bottom right, Rachel Sommers


As NBCC and Affiliates' employees continue to work remotely, the Communications Team is taking a moment to share some tips that have helped us navigate the transition. With everything going on, we feel as though it helps to connect with others that are weathering the same storm, even if we are not all in the same boat.
Nikki Yannone, Acting Director of Communications
"There will never come a day in which I will be able to accurately communicate how thankful I am for my work family. I am in awe of how amazingly flexible, creative, and patient they are (anyone else have toddlers and dogs interrupt video conferences?). I have enjoyed trying to find creative ways to show my appreciation—checking in, kind words, memes, and (poorly sung) songs top my list.
At home, I try hard to pay attention to the emotional needs of each individual (human and canine) because those change day by day. Some days we need to take time to hike in the woods, some days we have to snuggle and read for a while, and some days we need to do virtual play dates (shout out to my fellow extroverts). My son, being a tiny people-person, has developed a special bond with our mail carrier, leaving drawings for her. It has been so heartwarming to see her smile when she opens our mailbox every day. Intentionally making time for those things while finding a flexible balance between work and family has helped immensely. Also, leggings. All of the leggings."
Kristin Rairden, Senior Graphics Specialist
"The best thing to do is keep a routine and always have something to look forward to. So find a happy in your own life and don't worry if it's small. It could be, 'Have an ice cream tomorrow!' or whatever helps keep you sane during this time. Also, take time to laugh at least once a day. Podcasts from comedians have helped me a lot during COVID!"
Gretchen Porter, Senior Copy Editor
"I'm very thankful for the Communications Team being so flexible during this time. My biggest struggle has been taking on the additional role of "teacher" for my three children (ages 15, 12, and 8). Luckily, my high schooler and middle schooler are self-motivated learners and technologically savvy enough to take the reins in their online education. My second grader requires much more hands-on time and a higher level of engagement from me. The most important thing we have found for success is having a set schedule, and we seem to have found one that works well for all of us. If we get started early and buckle down, we can often knock out school assignments before lunch. I'm then able to focus on my work for NBCC in the afternoon and early evening.
But the social distancing component has been very difficult for all of us. We went from a busy family schedule of track practice, piano lessons, baseball practice, Boy Scouts, Brownies, and swim team practice to only the occasional virtual piano lesson and Boy Scout meeting. My husband and I try to be mindful of everyone's emotional health, so we often take breaks together as a family during the day—walks and bike rides in our neighborhood and board games are our favorite activities."
Rachel Sommers, Media Support Specialist
"Before our transition to working remotely, I took for granted the professionalism my coworkers displayed in the office. My new coworkers are slightly less considerate–demanding cuddles, and the constant game of fetch. I always assumed cats slept all day. Empurroar Pawpatine and Kitty Smalls do not. However, they do help pass the time! It's actually been nice having very affectionate pets to keep us entertained.
Craft projects have been a fun and creative way for me to fill the time (and my dining table). Discovering an excess of unused fabric and remembering that I do, indeed, have a sewing machine motivated me to make protective masks for friends.
I have tried to combat the loneliness of social distancing with scheduled Zoom 'Sunday Brunch' with my fellow singers, who would normally be in choir during that time. I've also enjoyed our weekly NBCC Communications Team meetings where we have a surprise guest every week, be it a child, cat, dog, or spouse popping their head into view.
Right now the best gift to yourself and to your family is kindness. I know those masks had crooked stitching, but they will still protect as they are meant to. I know I'll be lucky if I complete that paint-by-number canvas sometime before next year, but I won't let that bring me down. I know that all the to-do-in-quarantine lists I've created were works of fiction, but that won't keep me from writing more."
---
Share On Social Media:
---
Read more articles