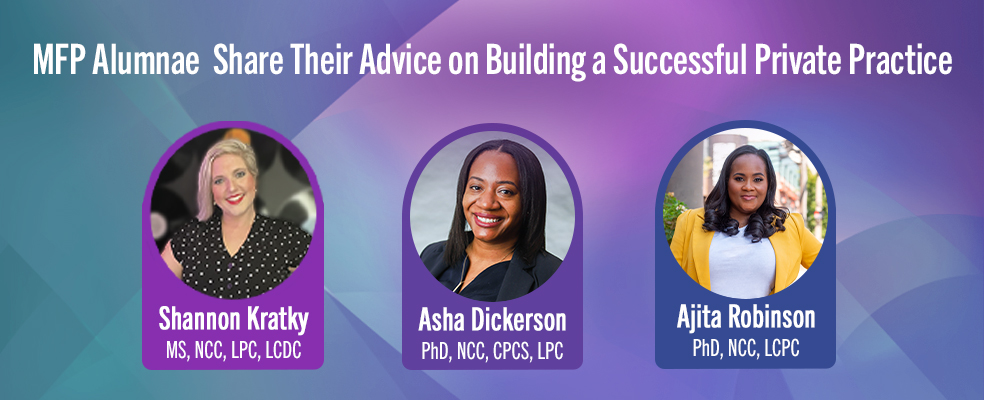 This month we spoke with three NCCs who own successful private practices to find out what advice they have to offer other counselors to help them grow their businesses.
Shannon Kratky, MS, NCC, LPC, LCDC, is an alumna of the Minority Fellowship Program (MFP) and is currently vice chair of NBCC's MFP Addiction Counseling Advisory Council. She is pursuing a PhD in counselor education and supervision at Oregon State University and is the owner of Courageous Story Counseling, PLLC, in San Antonio, Texas.
Kratky says that developing a professional identity gives counselors direction and helps them to find their passion and cultivate their expertise.
"It is non-negotiable," she says. "When we know who we are as professionals, our decision-making is intentional and informed, from what we choose to do in session to how we choose to operate our businesses. Professional identity development is also essential in cultivating your niche, whom and how you best serve."
Referrals and networking go a long way in building a private practice, Kratky says.
"There are so many marketing ideas that pop up in any Google search—engagement in community events, social media platforms, paid advertising, and more; however, our most successful marketing strategy has been referrals. For every referral we have provided to clients or potential clients, we have received another 10 in return."
Facebook groups for mental health professionals in her area have allowed her to connect with others, post needs for referrals, respond to other's requests for them, and market her business, she says.

Kratky admits that opening her practice was a rollercoaster at times because she initially made decisions based on desperation and fear of failure, which resulted in being overworked and underpaid—"a recipe for burnout."
"Don't be afraid to ask for help from those who have walked this path before you," she says. "I have invested in a business coach, and I have never regretted a single penny I've spent for that service. Also, remember that setbacks are not failures! Instead, learn, take notes, adapt, and overcome. I've never met a counselor who became a counselor because everything went right in their life. We've already done many hard things and we need to remember that we can continue to do hard things. The rewards of private practice far outweigh the challenges, in my experience."
Asha Dickerson, PhD, NCC, CPCS, LPC, is an alumna of the Minority Fellowship Program (MFP) based in Atlanta, Georgia, who educates and supervises counselors and other helping professionals. She is the owner of AD Advantage Counseling & Education Services, LLC, and provides workshops, training, and other services throughout the United States and in other countries.
Dr. Dickerson says her workshops and training sessions, some of which are free, have been vital to growing her business.
"People are happy to be there, and then when they listen to me, they discover that I understand what I'm doing, and often they will reach out to me afterward. Where referrals are concerned, I consider myself to be providing a service in order to receive another service, because a referral is provided by someone else. And when I ask others how they heard about me, they typically say they came to one of my trainings, or they will say another clinician told them about me."
To build your practice, you need to connect with others in the mental health field, Dr. Dickerson says.
"The best way to gain referrals is simply by going to different networking events such as the NBCCF Symposium and counseling association conferences, and there are a few Facebook professional groups that I'm a member of where I give referrals and create a referral list as well," she says. "Social media is one of the biggest marketing tools today. Some counselors are now using TikTok, which is popular with younger people, but you can't just present your information; you have to be somewhat entertaining and engaging to deliver your message."
Patience is a virtue when considering and building a private practice, Dr. Dickerson says.
"In the beginning, it might be better for you to start as a contractor in someone else's private practice before trying to do things on your own. What people don't realize about having your own private practice is that you have to pay your own taxes, do your own marketing, and pay for your own electronic health records system. When you're a part of someone else's private practice, they are paying somebody to do that for you. Don't just jump into private practice because you're fully licensed."
Ajita Robinson, PhD, NCC, LCPC, is an alumna of the Minority Fellowship Program (MFP) and a grief and trauma counselor based in Bethesda, Maryland. Dr. Robinson is also a speaker and corporate trainer who teaches mental health entrepreneurs to utilize their skills to build a legacy while serving their communities.
Our professional identity is a reflection of ourselves, she says.
"The way that we work with clients is grounded in the way that we see ourselves and the work that we're doing," she says. "When I train counselors in developing professional identity, I help them understand that the way they show up to do this work is different from their way of understanding what is happening with their clients, which also influences their way of intervening. Developing that professional identity will help us as we evolve throughout our career."
Marketing allows counselors to shine and build beneficial relationships in and outside of the counseling profession, she says.
"One of the best marketing avenues that still drives business to my practice is connecting with coordinating providers, whether that be the school counselor, primary care physician, OB-GYN, or chiropractor," she says. "By making sure that they recognize the work you're doing with your mutual clients, they can more effectively refer new clients to you. Hands down, that has been the most effective marketing stream of revenue that we have engaged in consistently."
Counselors also need to be clear about whom they serve in their marketing materials and make them relatable.
"Removing the jargon from our marketing materials helps us make therapies accessible. We also want to make sure that clients can see themselves in those marketing materials. Additionally, oftentimes we pick a name for our practice that means something to us but means absolutely nothing to the clients we serve. So again, we're creating some distance and confusion where we want to create connection and awareness."
Dr. Robinson recommends having a website that is search-engine optimized and Google-friendly.
"We are also very active on social media, making sure that we're on the podcasts that our ideal clients listen to, and we make sure that we are talking to the local media about things that matter to our clients. They find us where we find them, and that's important to understand. You should identify where your clients already spend time and show up in those spaces."
She shared her strategy for being added to referral lists.
"I'm going to look them up and identify who they are and who they serve so that I have an idea of who I'm talking to. I also ask questions such as 'Can you tell me if you're seeing grief or anxiety in your client population?' Then I can ask whether it would be helpful for a member of my team to come host a quick lunch and learn about mental health. I'm making our team essential, showcasing our expertise, and adding value before asking in order to build a trusting relationship."
Owning a private practice can be a rewarding endeavor when it's done responsibly, she says.
"To have a thriving practice, we must recognize that we have a fiduciary responsibility to run a profitable practice, and that is not in conflict with serving the underinsured, the underserved, and the marginalized," she says. "We have a responsibility to ourselves and to the community to make sure that we're building a business that not only serves the client that we're called to serve, but that honors us in the process."