nbcc-foundation-volunteers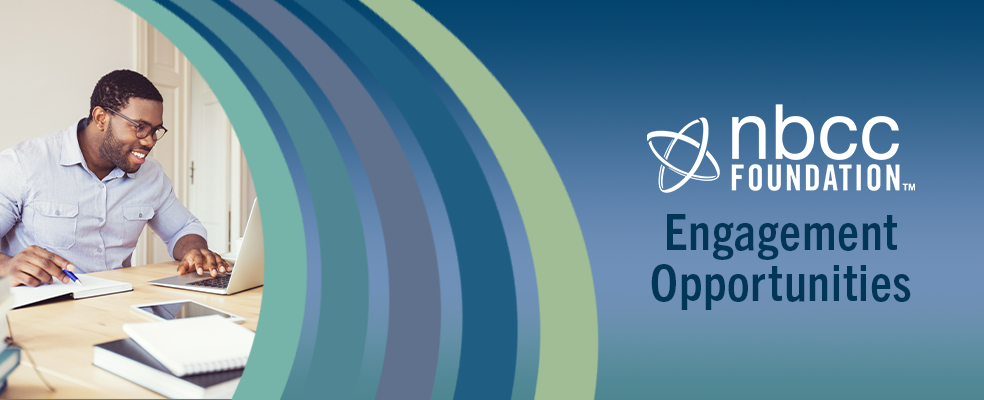 The NBCC Foundation's mission is to leverage the power of counseling by strategically focusing resources for positive change, in order to improve the mental health of the underserved and never-served throughout the world. It performs this work through a number of programs, including scholarship and fellowship awards to master's and doctoral counseling students.
Alongside financial donations, the Foundation relies on volunteers to help it pursue this mission. Volunteers fulfill a number of important roles with the Foundation, many of them related to the Foundation's scholarship programs and federally funded Minority Fellowship Program. Volunteers are essential for the Foundation to continue providing so many scholarship, fellowship, and other funding opportunities. Volunteers provide important services and diverse views and ensure that donations can go to directly benefit scholars and other program recipients.
Brandice Bell, Volunteer Coordinator at the Foundation shares, "Counselors-in-training benefit greatly by having a veteran counselor guide them as they get their footing in the profession. Whether it be through mentoring or reviewing applications for our highly competitive fellowships and scholarships, time is one of the most valuable resources counselors can donate, and it is one of the most meaningful and impactful ways to give back to a profession that has given us so much."
Many volunteer opportunities are conducted partially or entirely remotely and have been since before the pandemic. This has always allowed the Foundation to draw from a larger pool of interested supporters and to match fellows and scholars with mentors based on shared professional interests and compatibility without being hindered by geographic proximity. This existing practice made it easy for volunteers to stay involved throughout the pandemic.
These opportunities are designed so that volunteers can commit the time and attention that suits them. Application reviewers perform the important initial evaluation for scholarships and fellowships. Members of the MFP Advisory Council advise on policy and provide leadership to the counseling profession. Mentors cultivate a professional relationship with a scholar or fellow to provide support and guidance. Presenters and panelists share their work with scholars, fellows, and NCCs through webinars and at conferences.
Bell shares, "We are in the beginning stages of matching our 2021 MFP Fellows with their mentors and are always looking for more individuals with unique skillsets to help guide both our fellows and scholars as well as serve in other crucial areas as volunteers."
If you're ready to volunteer or just want to learn more about these opportunities, visit the NBCC Foundation.
Applications for volunteer mentors and application reviewers are accepted year-round as well as proposals for webinar presenters, which does include a small stipend. The Foundation also hosts various events and trainings throughout the year and will announce those call for presenters through their monthly Foundation Connections newsletter as well as through social media sites such as Facebook and Twitter.
The NBCC Foundation is currently accepting applications for the 2021–2022 Minority Fellowship Program Advisory Council, through Aug. 6, 2021. MFP Advisory Council members promote and support the mission of the NBCC MFP. They serve one-year terms and may be elected to a second one-year term. There are two different councils that members can apply to serve on: Mental Health Counseling or Addictions Counseling.
Mental Health Counseling Advisory Council members must be alumni of the NBCC MFP and National Certified Counselors. Addictions Counseling Advisory Council members must be National Certified Counselors through NBCC or hold a certification through the National Certification Commission for Addiction Professionals. Full eligibility and commitment information is available on the application at https://bit.ly/2021-MFPAC.
To keep informed of future volunteer opportunities, subscribe to the Foundation Connections newsletter.
---
Share On Social Media:
---
Read more articles