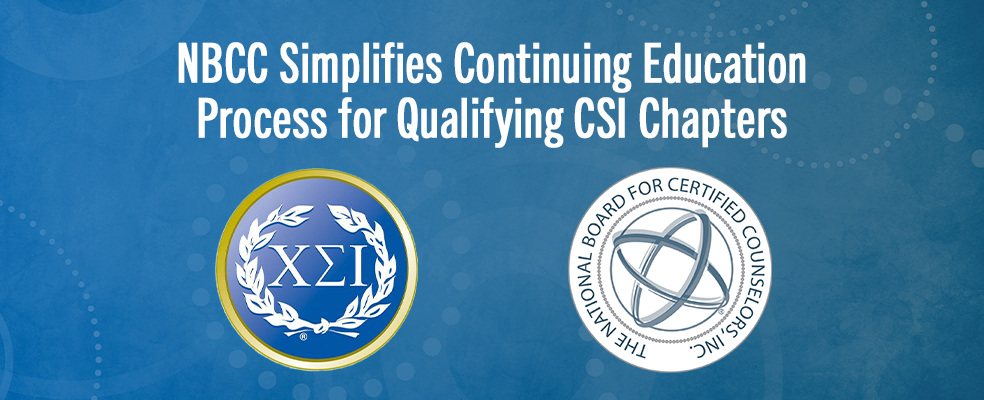 Since 2016, NBCC has offered special accommodations regarding continuing education (CE) credit to active chapters of Chi Sigma Iota (CSI) International that are affiliated with a counselor education department with current Approved Continuing Education Provider (ACEP) status. This CSI member benefit simplifies the process for offering NBCC- approved credit by not requiring individual chapters to apply for and maintain their own separate ACEP status.
CSI is an academic and professional honor society that promotes excellence in counseling. Founded in 1985 at Ohio University, it now has more than 130,000 members and 400 chapters. Its members include students and professional counselors, counselor educators, and supervisors, all of whom are affiliated with campus-based chapters contributing to their counselor education programs.
For CSI chapters affiliated with counselor education departments that have current ACEP status, NBCC has streamlined the process, allowing those chapters to use their department's ACEP number when co-sponsoring CE opportunities for NBCC- approved CE credit.

Counselor education departments that do not have current ACEP status can apply for approval so that their active CSI chapter may provide NBCC CE credits, and NBCC will waive the application fee. In addition, annual ACEP maintenance fees are discounted for counselor education programs that maintain active CSI chapters.
"Our hope is that the incentive fosters an opportunity for collaboration between NBCC, continuing education departments, and counselors in training to empower student leadership, advance professional counseling knowledge, and inspire excellence in counseling," says Emily Campbell, NBCC's director of Continuing Education Provider Services.

NBCC's University Counselor Education Department ACEP application can be found here. For more information about this opportunity, CE and ACEP program administrators can email NBCC's Continuing Education Department or call 336-547-0607.