ncsc-highlight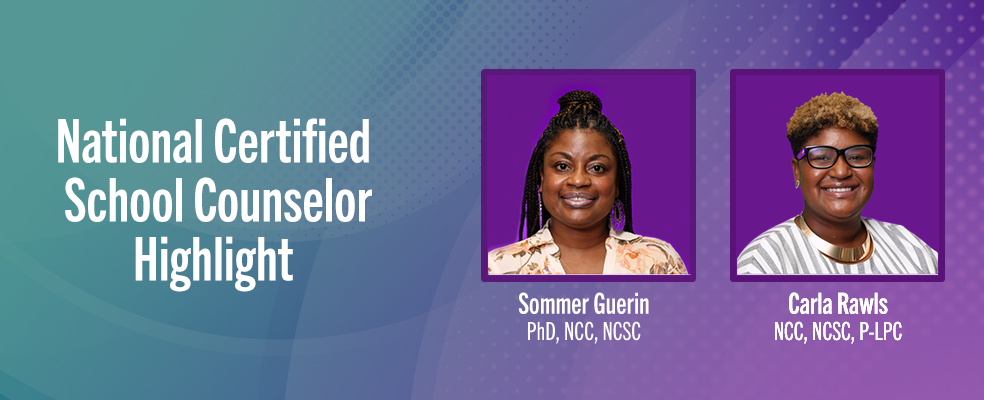 The process of navigating the transition to providing online services has been difficult for counselors everywhere. School counselors especially have been forced to deal with seemingly insurmountable challenges during the COVID-19 pandemic that have required creativity to navigate.
"We know how difficult this time has been, especially on students," says NBCC President and CEO Kylie Dotson-Blake. "We have seen firsthand how communities across the country are struggling to meet the needs of students and their families. Transitioning to remote learning, dealing with food insecurity, lack of appropriate resources, and navigating many layers of grief have taken a toll on many families and students. We are so thankful for all of the school counselors who have been working diligently to address these concerns as best as they can."
We reached out to school counselors Sommer Guerin, PhD, NCC, NCSC, and Carla Rawls, NCC, NCSC, P-LPC, at N.R. Burger Middle School in Hattiesburg, Mississippi, to understand how the Hattiesburg Public School District has successfully transitioned to remote learning while offering a wide variety of resources to families in their communities.
"At the beginning of this global pandemic," responded Guerin and Rawls, "so many unknown factors existed in general, so adjusting to a 'new normal' definitely presented challenges for educators everywhere. Being a counselor means one serves students, parents, teachers, and administrators. Therefore, we had to find creative ways to work in this capacity from home."
In Hattiesburg schools, educators and administrators have utilized the various components of Google, Google Meet, Zoom, and the learning platform Schoology. For the school staff, communicating with parents and students via School Status became part of the remote learning regimen. The school's social media sites continued to be maintained with important updates and messages, student recognition, and pertinent resources.
School counselors have also been finding inventive ways to continue to engage students and support families. They have been sending empathy, warmth, and a helping hand through the internet to students, while also working diligently to provide as many resources as possible to help address the increased needs of families.
"As a Burger team," they said, "we worked collectively to provide laptops for families who had internet access and paper copies of assignments for our families who did not. Moreover, we had to be especially intentional about making consistent contact with our students who experienced behavior issues and those who were battling homelessness. At school, we provide many safety nets for these students, and we could not risk them falling through the cracks due to the sudden changes brought forth during this global crisis. We had to continually brainstorm and think outside of the box, but we tried to make remote learning resemble our normal school environment as much as possible."
With the successful integration of virtual communications throughout the pandemic, counselors have been able to remain in close contact with students and parents, which is an essential practice. "While we have a very small percentage of students who enjoy virtual learning because they are introverts and are very comfortable in their roles as homebodies, the majority of our students have struggled with the lack of interaction with their teachers and their peers."
For Guerin and Rawls, seeing the effects of quarantine and isolation on students has pushed them even more to build and maintain positive relationships with staff, students, and community partners, which has had a positive impact on students' academic proficiency and social responsibility.
"Not being able to experience the soothing aspects of our school environment was quite difficult for many of them," Guerin and Rawls said. "Isolation has been very challenging for adults, so we know it has been even more challenging for children, especially adolescents who are already dealing with hormonal fluctuations and societal pressures. Although we have found various ways to successfully navigate our way through this crisis, we believe that for years to come, there will be some lingering negative effects that occur from social isolation."
The success of Hattiesburg's school counselors can be attributed, in part, to monthly meetings where they brainstorm ways to effectively manage tasks and to ensure proper support of students and their families. At the beginning of the pandemic, all of the district's counselors, affectionally called the "Hearts of the District," were tasked with providing mental health care resources for their schools' websites. Each school has some autonomy in the information they want to share and how it's shared, and in the actual design and layout of their website, including the "Counselors' Corner." Parents and students can find any number of resources from N. R. Burger Middle School through maintaining close communication and frequent site updates with their media specialist.
Because of the districts' collaborative efforts, they have received very positive and gratifying feedback from parents and community members about the various forms of communication available to them, with the website definitely being a favorite.
Although counselors may rejoice at the strides they have made in serving their students, it has been well documented that compassion fatigue is a challenge for caregivers of all kinds, and self-care is more important than ever in this difficult time.
When asked how they find the motivation to continue work in such a challenging environment, Guerin and Rawls responded, "We do not believe you can be in the school counseling field without enjoying some level of servitude to people. Even though we are constantly wearing many hats and trying hard to maximize our time on a daily basis, we really enjoy working with our students and their families. We work diligently to accommodate their needs and to ensure that they have a positive experience while they are here with us at N. R. Burger. Nothing warms our hearts more than to hear the thanks and words of gratitude from the parents, students, and staff we've assisted in some form or fashion. Furthermore, it makes us feel good to know that we may have solved a problem or, in some small way, contributed to someone's success or accomplishments. Also, because we work in a great school surrounded by wonderful colleagues, it makes our jobs as school counselors that much more fulfilling."
---
Share On Social Media:
---
Read more articles