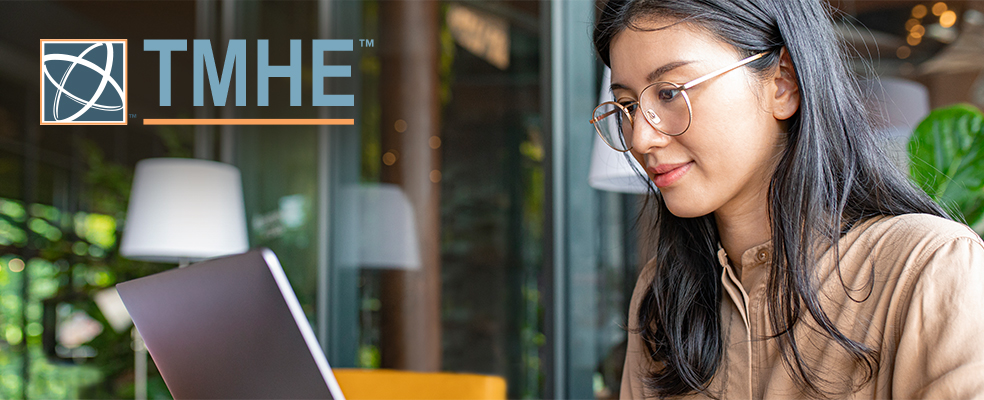 We are pleased to announce that as part of a formal review and development process, the TeleMental Health Examination (TMHE) was recently overhauled, and a new content outline was created. This rigorous examination is taken by candidates seeking to earn the Board Certified-TeleMental Health Provider (BC-TMH) credential offered by the Center for Credentialing & Education (CCE) after they have successfully completed the required training.
The new examination format was developed by a committee of highly knowledgeable and skilled subject matter experts (SMEs) with vast experience in providing telemental health services.
"The subject matter experts play a critical role in examination development," says Dr. Unber Ahmad, a Psychometrician for CCE. "Their expertise is fundamental in the creation of psychometrically sound examination items."
Together, these professionals defined the TMHE; identified the core domains associated with telemental health services; determined the examination format, length, and blueprint; and finalized the content outline. In addition, individuals who hold the BC-TMH credential were given an opportunity to participate in a standard-setting cohort in which they took the examination at no cost and fulfilled the credential continuing education requirement with a passing score. The Assessment Department then teamed up with the SMEs again to utilize the data from the standard-setting cohort to determine a new passing point for the new TMHE.
"After the successful launch of the first form, a full second form was also published for candidates," says Dr. Ahmad. "Having multiple examination forms enhances test security, and the overall quality of the examination is improved because of the experience, dedication, and commitment of the SMEs."
Examination development is a continual process, and it's because of valued credential holders and SMEs that we are able to provide the highest caliber of examinations.
"This credential has become more valuable since the breakout of the COVID-19 pandemic in 2020, resulting in the increased demand of virtual counseling practice," says Dr. Isbah Ali Farzan, Director of Assessments and Lead Psychometrician. "We are thankful to our SMEs and the volunteer participants of the standard-setting cohort who helped NBCC launch the improved TMHE at this time of need."
The TMHE is designed for National Certified Counselors (NCCs) or licensed mental and behavioral health professionals, including professionals under supervised practice. It consists of 100 multiple-choice questions that must be completed within 2 hours in one sitting. Administered in an online proctored environment through our testing partner, Examity, the TMHE measures an individual's ability to apply and evaluate knowledge in core telemental health best practices.
The six competency areas included in the TMHE are Professional Orientation to Telemental Health; Client–Practitioner Protocol; Disclosure and Informed Consent; Technology; Professional, Legal, and Ethical Considerations and Compliance Standards; and Crisis Management.
Applicants can test a maximum of three times over a period of 2 years, with a minimum 90-day waiting period between examination attempts. The examination fee is $100.
At present, a telemental health job analysis is also being conducted by the Assessment Department to garner input on the field of telemental health from practitioners outside of counseling. We believe incorporating perspectives from other mental and behavioral health professionals, such as psychiatrists and psychologists, will lead to an enhanced examination and a more widely recognized and valued credential.
The telemental health examination has come a long way in the past 2 years and the ongoing efforts of the Assessment Department to cultivate and grow this examination will make the TMHE more valid and psychometrically sound.
"While the pandemic was a huge driver of the increase in telemental health practice, this modality of providing clinical services is here to stay," says Callie Marino, VP of Credentialing and Quality Assurance. "Technology has changed the way we interact with our clients and it is critical that, as professionals, we ensure that we do so safely and effectively. Through regular evaluation and improvement of the TMHE, we help to ensure that qualified practitioners are meeting that standard."
More information about the TMHE can be found here. If you have questions, please email us at credentialinfo@cce-global.org and use "TMHE" in your subject line.
If you want to have a positive impact on the profession and enter for a chance to win 1 of 10 $100 Amazon gift cards, take part in our job analysis survey!