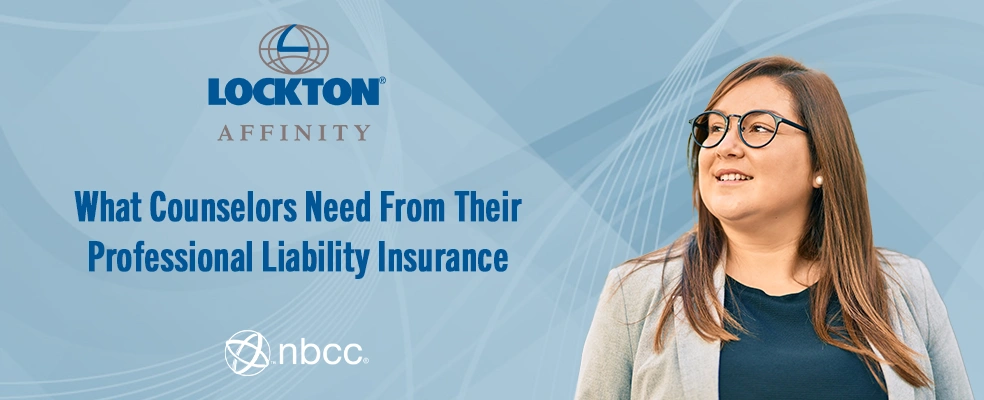 You've taken an important step in enhancing your professional credentials by connecting with the National Board for Certified Counselors. As a National Certified Counselor, you have demonstrated your commitment and ambition to deliver excellent counseling services to your clients, but protecting your reputation and your financial security is critical.
However, in today's litigious society, people in all types of professions can be sued, including NCCs. Despite your dedication and training, you can face claims of negligence, breaking confidentiality agreements, HIPAA violations, intentional harm, and sexual misconduct, among others.
To protect yourself and your reputation, the right professional liability insurance is key. Professional liability insurance, or malpractice insurance, covers the cost of certain legal fees, judgments, or settlements resulting from claims and litigation brought against you for the services you provide. But not all policies are the same.
When searching for a policy that fits your needs as an NCC, it is important to look for these additional coverage benefits.
5 Benefits Counselors Need From Their Professional Liability Insurance
Loss of earnings: If a claim is filed against you, it can be extremely disruptive to your schedule and livelihood. Look for a policy that pays for your loss of earnings while attending court, hearings, meetings, and more.

Payment for professional license complaint investigation expenses: If a claimant or patient makes a professional license complaint against you, there is often an investigation and proceedings brought by a state licensing board or other regulatory body. With these investigations come associated fees, costs, and expenses. Look for a policy that offers support or reimbursement in the event of a professional license complaint.
Personal coverage: Though some employers provide coverage, many may not fully protect you if you are faced with defending yourself against a claim. With your own personal professional liability policy, you will have full access to the coverage and limits you select.
Coverage for sexual misconduct claims: Because of the naturally private and vulnerable aspects of counseling, counselors may be accused of sexual misconduct. When exploring your professional liability insurance options, check to see if policies include coverage for sexual misconduct claims, such as claims of sexual assault or sexual battery.
General Liability coverage: You can have a claim filed against you beyond negligence, breach of fiduciary duty, sexual misconduct, and fraud. For example, a patient could slip on a wet spot at your office and injure themselves, finding you and your practice responsible. To protect against these types of general liability claims without purchasing a standalone policy, you may be able to find a professional liability policy that includes coverage automatically.
Professional Liability Insurance From Lockton Affinity Health
With dozens of options available, finding the perfect professional liability insurance can seem daunting. But with guidance and support from Lockton Affinity Health, an NBCC partner, you can narrow your search.
In fact, Lockton Affinity Health's professional liability insurance for NCCs offers coverage for loss of earnings, payment for professional license complaint investigation expenses, general liability coverage, and more.
Learn more about Lockton Affinity Health's professional liability coverage at LocktonAffinityHealth.com/NBCC or by contacting a dedicated customer service representative at 800-253-5486.


The Lockton Affinity Health Insurance program is administered by Lockton Affinity, LLC d/b/a Lockton Affinity Insurance Brokers LLC in California #0795478. Coverage is subject to actual policy terms and conditions. Policy benefits are the sole responsibility of the issuing insurance company. Sponsors may receive a royalty fee for the licensing of its name and trademarks as part of the insurance program offered to the extent permitted by applicable law. Not available in all states.