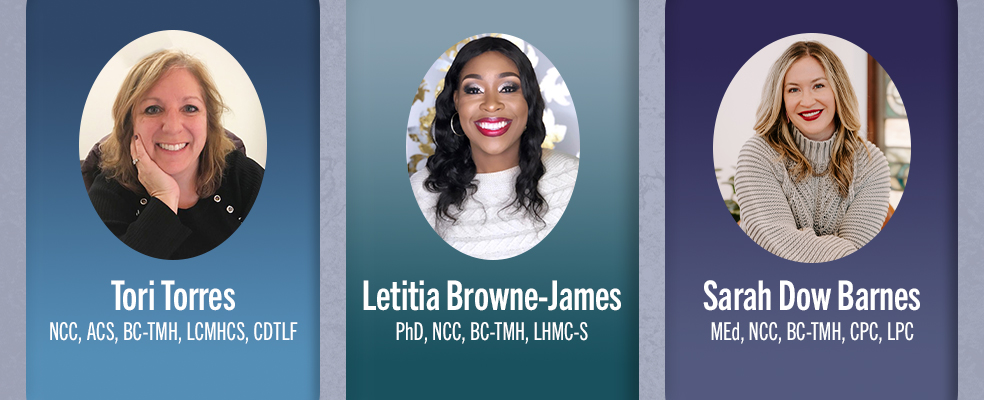 As telemental health continues to flourish, mental health professionals have become more interested in learning the best practices to offer services safely and effectively, and how they can gain credibility with clients and employers. Clients are continuing to seek professionals willing and prepared to provide telehealth services. To meet this growing need, the Board Certified-TeleMental Health Provider (BC-TMH) credential was created by our affiliate the Center for Credentialing & Education (CCE) along with thought leaders in the field.
The BC-TMH credential signifies that counselors have engaged in extensive training and hold the knowledge and skills necessary for a solid foundation in the administration of telehealth services. It also shows the public that a provider has passed a comprehensive examination on safe and effective practices, adheres to a code of ethics, and stays up to date on continuing education in the field.
To be eligible, candidates must hold a current, active qualifying license to practice in a behavioral health field in the state or country in which they live or work, or hold a current, active National Certified Counselor (NCC) certification. If a candidate is an associate or intern, or under supervision, they qualify as long as they are complying with their current practice limitations. Before applying, candidates must complete an approved training program offered by either the Telehealth Certification Institute or the New College Institute STAR Telehealth program. These professionals and their programs have been evaluated to meet the high standards of telemental health required for CCE approval.
After training, candidates can apply to take the TeleMental Health Examination (TMHE), developed by a committee of subject matter experts. There is a $150 application fee, and the 100 multiple-choice questions must be completed satisfactorily within 2 hours to pass the examination required for credential eligibility.
We recently spoke with three professional counselors who have earned the BC-TMH about how it has benefited them along their career paths.
Tori Torres, NCC, BC-TMH, ACS, LCMHCS, CDTLF, has been a professional counselor since 1998. Torres opened her private practice in 2010 while working in student services for a community college. There, she and her fellow counselors became interested in learning more about what was then referred to as distance counseling.
"The college gave us the training to become Distance Certified Counselors (DCCs), and I found it really useful," she says. "We actually began by using email and the telephone." (The former DCC credential offered by CCE has transitioned to the BC-TMH.)
After leaving the community college in 2015, Torres became a distance career coach for University of Phoenix and offered telehealth services through her private practice.
"I transitioned over to the BC-TMH, and when the pandemic hit, I moved all of my clients from my practice to virtual visits," she says. "I had already been using a platform and knew how to help a client become comfortable, so there wasn't a learning curve for me to adapt and help them get accustomed to meeting that way.
"Knowing the right technology, the ethics, and understanding the best practices, that's what's valuable about the credential," Torres continues. "I'm confident in those areas now and keeping up through continuing education helps me stay aware of best practices and new technologies."
As the founder, owner, and lead counselor of Victorious Living Counseling and Consulting, a group practice in Florida, Letitia Browne-James, PhD, NCC, BC-TMH, LHMC-S, and her colleagues primarily use telemental health methods to counsel clients. Earning the BC-TMH has helped her to grow her business, she says.
"I decided to obtain the BC-TMH credential when I started my practice because it was initially 100% telehealth, for convenience and a financial saving as I was building my business," she says. "As the business grew and more people asked for in-person sessions, I opened an office, but we still provide most services via telehealth based on the clients' preferences or needs. I like the flexibility telehealth affords the clients, the other counselors, and me. Telehealth also helps to reduce or eliminate barriers to accessing care for some clients."
Dr. Browne-James recommends the BC-TMH for fellow counselors.
"The telehealth training through CCE has all of the basic components of telehealth to help build counselors' efficacy and confidence in providing telehealth services," she says.
For more than a decade, Sarah Dow Barnes, MEd, NCC, BC-TMH, CPC, LPC, was a teacher and later a school counselor in Louisiana before moving to Nevada in late 2020. She obtained the BC-TMH before starting a private practice where she works with educators, schools, and educational organizations. Her practice is entirely virtual.
"Having the BC-TMH shows that you are competent and proficient in telehealth, and it's a good way to advocate as well," she says. "It's important to remain current on best practices because the field is always changing. I think that the continuing education aspect required for the renewal helps make sure you're meeting the needs of your clients, and it helps set yourself up for success in the best possible way.
"Telehealth is not going away," she says. "Get the training, learn what you need to learn, and consult with other clinicians. If telehealth is something that you're committed to and it's the cornerstone of your practice, it only makes sense to earn the BC-TMH."
If you are interested in expanding your practice by earning the BC-TMH credential, visit our website.