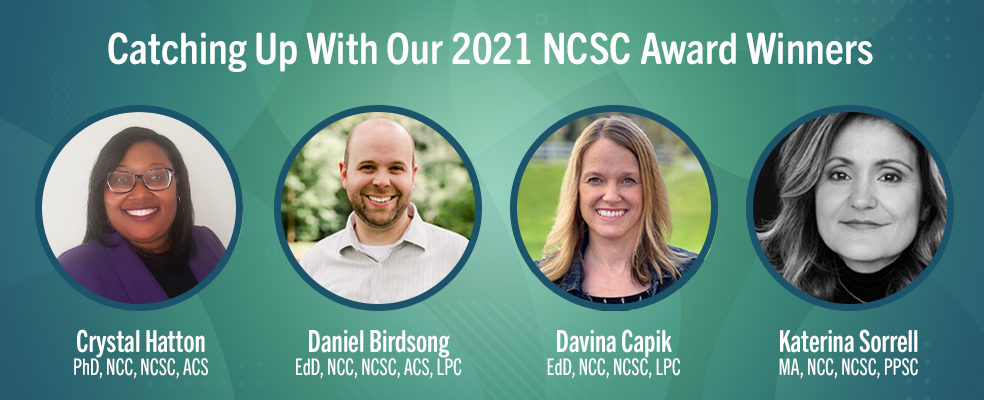 This month, we caught up with four of the winners of NBCC's 2021 National Certified School Counselor (NCSC) Awards Program to hear about the work they've been doing in their schools and how the funds helped them during the COVID-19 pandemic. They've also shared their thoughts on the mental health needs of students, obtaining the NCSC, and advice for counselors who also want to implement school programs and initiatives. Each winner was awarded $1,000 to assist with their efforts.
Crystal Hatton, PhD, NCC, NCSC, ACS, is in her second year as an assistant professor in the Department of Counselor Education and Family Studies at Liberty University. Previously she was a counselor with Newport News (Virginia) Public Schools for 13 years. Dr. Hatton says that from the beginning of the pandemic she noticed the impact it had on students' mental health and well-being.
"Being disconnected from school and socially isolated yielded devastating effects," she says. "School serves as an outlet and source of support for many students, and this was abruptly interrupted without warning. While all students had to adjust to virtual learning, this 'new normal' presented additional challenges for some who would benefit more from a face-to-face environment. The pandemic caused an overwhelming amount of stress for families, and students were privy to that stress because they were also home and isolated with their families."
Winning an NCSC award enabled her to help her students and their school during an especially challenging time, she says.
"I used funds from the award to assist my former school counseling colleagues with establishing a trauma-sensitive school environment for students. I was able to purchase motivational wristbands for students and faculty, writing journals, quiet fidget devices, school supplies, and a variety of workbooks that the school counseling team can use to incorporate trauma-informed practices into their comprehensive school counseling program."
Earning the NCSC has helped her along her counseling career path, Dr. Hatton added.
"I believe that obtaining the NCSC lets stakeholders know that I am committed to school counseling and dedicated to demonstrating leadership within the field," she says. "The rigorous credentialing process serves as a testament to the knowledge, skills, and abilities that I possess to serve pre-K–12 students and school counselors-in-training. I would encourage eligible school counselors to obtain the NCSC to demonstrate their commitment to the profession. As we continue to strive toward a uniform professional identity, becoming highly credentialed and board certified is a step in the right direction."
Mental health needs among students are at a peak, Dr. Hatton says, adding that the pandemic has created an opportunity for counselors to share helpful information, work together with others, innovate and adapt.
"Students need services now more than ever, and it's quite possible that the school counselor may be the only counselor that many students see. This is a prime time to meet the diverse needs of students by implementing trauma-informed practices, restorative practices, and socioemotional learning initiatives within schools. I would recommend that school counselors research how the pandemic has impacted students, share their knowledge with stakeholders, and collaborate with others to incorporate these initiatives into their school counseling programs and overall school environments. I would also challenge them to implement creativity and choose activities that can be used to reach students in both face-to-face and virtual settings."
Daniel Birdsong, EdD, NCC, NCSC, ACS, LPC, was an elementary school counselor at Creek View Elementary in Alabaster, Alabama, when he won an NCSC award in 2021. He has worked in the educational field for 8 years and is currently an assistant professor of counseling at the University of Montevallo in Montevallo, Alabama, where he coordinates the CACREP-accredited school counseling track. He also works part-time in a local group counseling practice.
"I was able to use the funds from the NCSC award for continuing professional development, which enabled me to participate in important training I would have otherwise not been able to complete," Dr. Birdsong says. "The continuing professional development increased my knowledge and skills as a professional, allowing me to be a better counselor and educator for my students."
Dr. Birdsong says that COVID-19 had a profound impact on all aspects of the elementary school where he worked, including operations, staffing, and student concerns.
"My last year as a school counselor (2020–2021) was the most difficult of my career, and I feel so deeply for those who continue to serve on the front lines in the P–12 school setting."
Earning the NCSC helped him to develop professionally, Dr. Birdsong says.
"I was interested in obtaining the NCSC to further my professional education and career," he says. "The NCSC credential demonstrates specialized expertise in school counseling, and I believe it helped me in my career as I advanced from school counseling to counselor education. Being highly qualified as professionals brings additional legitimacy to the important work school counselors do every day on behalf of others as highly trained counselors specializing in the school setting."
Davina Capik, EdD, NCC, NCSC, LPC, a school counselor and co-lead of the K-12 counseling department team at Stewartstown Elementary in Pennsylvania, was delighted to win a 2021 NCSC award. She used it to help not only her school, but other elementary schools in her area.
"I am so grateful for the funds I received from the NCSC award," she says. "I was able to enhance our district's SEL program by providing a calming kit for every classroom in our elementary schools. Our classrooms are able to create 'calming corners,' or safe spaces that provide students access to various tools and resources to help with self-regulation, calming, and coping, such as comforting toys and pillows, glitter jars, coloring activities, mindfulness strategies, et cetera. It feels so good to provide every classroom teacher with SEL items available for the students who need them."
Dr. Capik has worked in the counseling field for 14 years spanning elementary, middle, and high school, and decided to pursue the NCSC in order to grow as a professional.
"I felt as though obtaining the NCSC not only fulfills my personal drive for self-growth but also the obligation I hold, ethically and professionally, to stay well-informed of current issues in the counseling profession."
She offers some encouragement to fellow school counselors who want to develop their own programs and initiatives.
"Become an active role in the school community," she says. "For example, take on a leadership role within your school district or become a member of committees where you can lend a voice. Talk about how you can contribute to the school community through your counseling program. This way you will gain insight into what it is that your student body, school staff, parents, and community needs are. By being visible to stakeholders, you are available to listen and have a 'seat at the table' to help initiate positive change in your school community. This, in turn, will allow for a collaborative approach in identifying needs within the district."
The NCSC Award enabled mental wellness counselor Katerina Sorrell, MA, NCC, NCSC, PPSC, to create and implement several creative and well-received programs for the students she works with in the Saddleback Valley Unified School District in South Orange County, California.
"The NCSC Award funds were a real blessing," she says. "Our district hosted summer school for students who had fallen behind during the pandemic, so I launched a 'Summer Camp With Smokey Bear' theme on campus, purchasing a huge stuffed bear, giant jeans to fit, and camping supplies. The kids had a blast taking pictures with Smokey, eating lunch around the 'campfire,' and playing camping games."
Sorrell also used the funds to raise awareness during Suicide Prevention Month in September.
"I used NCSC funds to help my fellow mental health counseling teammates highlight Suicide Prevention Month. We produced a suicide prevention video and hosted a high school mental health wellness event that was very popular, with motivational giveaways like popcorn bags, candy, and stickers. The high schoolers didn't even know they were being psychoeducated by having to answer questions to spin the prize wheel," she says, adding that the team looked great in matching T-shirts for the event. Sorrell was also able to purchase treats and supplies for a de-stressing/support meeting she led for her district's principals.
Obtaining the NCSC helped her reach new professional heights, she says.
"California does not require its school counselors to be licensed or certified, but as a Licensed Professional Clinical Counselor, I want to continue to grow as a mental health professional and raise the bar for myself as a school counselor. Attaining NCSC was the next step for me, and amazingly, it also resulted in my being honored with a national school counseling award!"
Building solid relationships with principals, teachers, and other counselors is a great first step toward implementing new counseling programs in schools, Sorrell says.
"It increases your credibility and gains you support for your ideas and initiatives. But don't come asking them to support you; instead, ask how you can support them. This changes the whole dynamic. After that, the law of reciprocity kicks in, and they in turn will want to explore how they can support your initiatives to serve the students you have in common."
Sorrell offers several suggestions to help counselors establish credibility with the families and communities they serve by visibly demonstrating their commitment.
"Participate in Back-to-School Night by doing a presentation or decorating your counseling office just like the teachers do with their classrooms," she says. "Organize parent success workshops around tips on parenting, balancing work-life stress, or how to help with homework. Speak at PTA meetings on student mental health issues or contact a local author and organize an event where they speak on a topic like adolescent development challenges, dealing with peer conflict, navigating social media hazards, or parent-child relationship success. Activities like this will raise your visibility and value in the eyes of parents and the community so they learn to rely on you as an important resource in the long-term success of their students."
Lastly, she says, be patient, because "None of this happens overnight, but if you are consistent and persistent in taking action focused on your long-term goals, eventually you will achieve them."