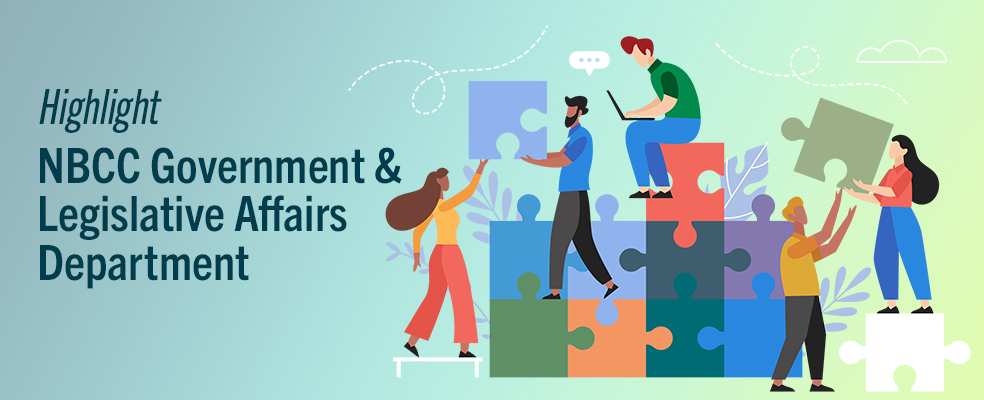 Since NBCC's beginning in 1982, our government affairs work has played a crucial role in helping to lay and maintain the foundational bricks of the counseling profession. The transition from a discipline to a profession occurred with the formation of professional organizations; the development of formal qualifications and standards based on education, practicums/internships, and examinations; and the emergence of regulatory bodies to license and discipline members as necessary to protect the public.
As part of this movement, NBCC created and administers counseling licensure examinations currently used by all 50 states; Washington, D.C.; Puerto Rico; the Virgin Islands; and Guam. The examinations for licensure and certification are created by counselors to ensure that those in the profession demonstrate the knowledge needed to safely perform their typical duties. In addition to providing premier examination services, NBCC has always been a leader in the realm of government affairs, working to build, strengthen, and protect the professional identity of counselors and to ensure that we take our rightful place at the behavioral health services table.
The main role of the Government & Legislative Affairs Department is to influence public policy at the state and federal levels by advocating for and protecting the interests of counselors. The department aims to strengthen the regulatory framework by providing education, resources, and advocacy to create, change, or maintain policies, laws, and regulations that advance professional excellence. This work requires partnership with legislators and policymakers throughout government and collaboration with organizations who share our passion and focus. Promotion of workforce mobility and expanded governmental recognition of counselors will therefore increase access to high-quality counseling services across the United States. Favorable legislation and laws are crucial to the survival of the counseling profession, as they provide recognition, credibility, and protection of counselors' rights to practice and secure employment.
To achieve these goals, we monitor proposed legislation and regulations to evaluate their impact on counselors, provide education and resources to state and federal partners, engage in lobbying activities, and implement grassroots advocacy programs that engage NCCs in communicating with key policymakers. We also work in conjunction with other professional organizations and coalitions to address issues of common interest that advance our public policy agenda.
Our Government & Legislative Affairs team is skilled at educating policymakers on issues, alerting stakeholders to legislative risks and opportunities, and lobbying to ensure that counselors are represented in policy debates that lead to favorable outcomes. Below are some of the department's goals and federal and state areas of focus.
Key Department Goals
Enhance the reputation of professional counseling among government officials and the public.
Advance professional excellence through credentialing, licensing, and assessment.
Educate government officials on the benefits that counselors bring to communities nationwide.
Influence the legislative process to prevent onerous regulation of the counseling profession and support positive regulation to allow counselors to thrive in the marketplace.
Create and engage in advocacy on policy issues affecting the profession.
Strengthen the impact on public policy through collaboration and the formation of strategic alliances at the state and federal level.
Expand governmental recognition of counselors.
Increase access to quality counseling services.
Key Federal Priorities
Key State Priorities
Licensure Portability — NBCC has been working toward the goal of a safe, clear, and reasonable portability path for all current and future counselors for many years and is currently advocating for the Interstate Counseling Compact. The Compact will increase access to care, establish minimum standards for safe practice, reduce administrative burdens for licensees and state boards, and create consistent licensure standards across state lines to protect the public.
Diagnosis and Scope of Practice — NBCC assists state boards to define scopes of practice that include assessment, diagnosis, and treatment. These key components are built from accredited educational standards and empower states to meet the mental health needs of the country.
Licensure Rules and Regulations — Uniformity of education, examinations, experience, and supervision requirements across states strengthens the profession and creates opportunity for counselors. NBCC provides review services and offers recommendations for best practices.
Testing — NBCC helps states gain fair access to testing by counselors. We monitor state and national legislation and regulatory actions to assure that all qualified professionals are permitted to administer test instruments.
Medicaid — This is the single largest payer for mental health services, a federal health care program covering the poor and underserved, administered by the states. NBCC assists states on Medicaid-related issues.
Deregulation/Consolidation — NBCC helps states that are vulnerable to deregulation and consolidation.
Reimbursement — Insurance and managed care are key issues for counselors. Many states have laws that mandate reimbursement for qualified professionals. Our State Affairs staff monitors these laws and regulations.
How do we do it all?
The Government & Legislative Affairs team, along with the NBCC executive team, implements the policy agenda of the department. The legislative landscape is complex and is constantly evolving because of the unfolding of current events, treatment advancements, technology, funding priorities, varying advocacy efforts, and entrenched partisanship. We analyze the legislation and the public policy environment on behalf of counselors to achieve the best possible outcomes. We also engage with our stakeholders (you), federal and state legislators, professional organizations, associations, universities, and governmental agencies to advocate for counselors. If you want to help, see below for how you can become an agent of change.
You can become an advocate!
Be aware of counselor licensure and recognition in your state.
Be aware of counselor recognition at the federal level.
Support state and federal advocacy and grassroots efforts.
Visit NBCC's Action Center to learn about the issues and support the calls to action through our Voter Voice
Organize your state counselors to support state and federal issues.
Join local, state, and national organizations!
Sign up for NBCC's Grassroots Network.
Donate or volunteer and lend support to the NBCC Foundation.