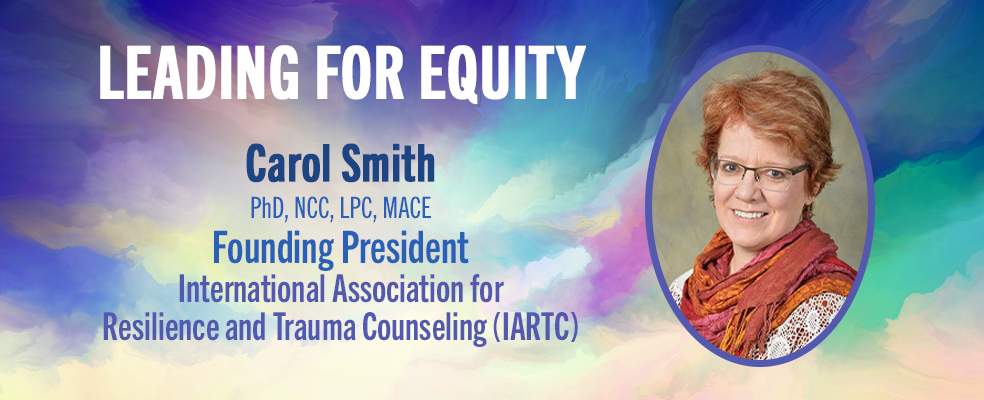 As we continue our conversation with leaders in the counseling profession about the importance of equity and access to mental health care services, this month we are sharing insights from Carol Smith, PhD, NCC, LPC, MACE, the founding president of the International Association for Resilience and Trauma Counseling (IARTC).
NBCC's Creed states that "Everyone should have access to high-quality counseling by competent counselors; Access leads to Equity." How does this statement resonate with the work of the International Association for Resilience and Trauma Counseling (IARTC)?
This statement resonates deeply with IARTC's vision of increasing trauma competencies for counselors throughout the United States and the world. Alas, we have mental health parity in word only in the United States. We do have the Mental Health Parity Act, passed in 1996, renewed in 2010, and again, I believe in 2019. But we still don't have actual mental health parity. We've made negligible progress on the aspirations of this bill. Further, many people still don't even know what professional counselors do. All of us in the field have lots and lots and lots of work ahead. In order to make a difference in the world, we professionals need to understand trauma's effect on generations, races, identities, and people who live in adverse community environments, and what to do about trauma—how to heal the wounds of inhumanity. And we need to advocate endlessly for mental health parity and trauma-informed public policy.
Reflecting on your own legacy of leadership, what impacts do you hope to have on advancing equity and justice within the counseling profession, and why do you feel it is important for leaders to do so?
As the founding president of IARTC, I hope that the association will become the go-to organization for training and resources for professional counselors seeking to specialize in trauma practice. Trauma-competent counseling is not easy, and it presents multifaceted situations that are exceptionally challenging. It's like the intensive care unit of professional counseling. I've been studying the effects of trauma on people for 40 years, and I still feel like I have so much more to learn. I hope my impact will include getting IARTC out of the starting gate and encouraging as many young professionals as I can that each one of us makes a significant contribution each time we exercise cultural humility and truly invest in our clients (or students, if we're counselor educators). It's so important for leaders to "walk the talk," that is, to listen carefully, seek guidance, admit when we're wrong, never stop learning, and never stop having ruthless hope for the future of all people.
What final words would you leave with counselors about their role in increasing access to counseling services and advancing equity?
I learned a practice some years ago called "rummaging through one's day," which sets aside time at the end of the day to go through the day's exchanges with others and think about how one did—for better or worse. Celebrate the victories, learn from the less-than-perfect, plan to make amends when fitting, and be gentle with oneself. We are all limited human beings making our way through life on the planet. We can all use a little bit of encouragement and patience with one another along the way.


Carol Smith, PhD, NCC, LPC, MACE, is a National Certified Counselor, Licensed Professional Counselor, and professor of counseling at Marshall University in West Virginia, where she co-founded and coordinates the Violence, Loss, and Trauma Certificate of Advanced Studies. She has been a counselor educator since 2002, was president of the West Virginia Counseling Association, and has served on the Leadership Team for the American Counseling Association Traumatology Interest Network since 2010. She has studied trauma since 1982 and has published and presented nationally and internationally on traumatic stress and disaster mental health since 1998. Dr. Smith has also advised the Senate on mental health aspects of the opioid crisis in West Virginia, has advocated for professional counselors at the state and national levels, and serves on several statewide boards dealing with adverse childhood experiences, child advocacy, and trauma-informed schools. Her research interests include biomedical ethics, end-of-life issues, the neural substrates of traumatic stress and resilience, and existential meaning-making in the context of life-limiting diagnoses.