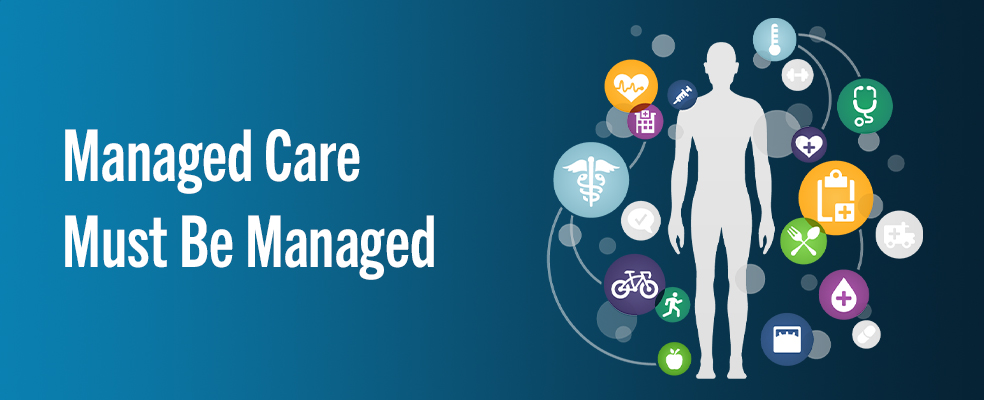 In his recent State of the Union address, President Biden outlined a plan for mental health access, care, and training. Biden shared a bipartisan vision to make mental health a priority in his presidency, highlighting the need to transform how mental health is understood, perceived, accessed, treated, and integrated in the United States. In addition, the Senate Finance Committee and the House Ways and Means Committee recently began a comprehensive review of the practices of insurance companies as part of the committees' overall efforts to improve access to behavioral health services. The goals center around widening access to mental health professional care and promoting the mental well-being of our frontline health workforce.
One area in which many are hoping to see reform is the process of managed care used by health plans and health insurers, with the objective of successfully addressing mental health treatment access.
Managed care describes a health insurance plan or health care system that coordinates the provision, quality, and cost of care for its enrolled members. Although the sole purpose of managed care is to oversee and control health services, it can often feel like a complex system that may present challenges for clients and providers. A balance between insurance and managed care requirements and the need for counselors to provide clients with timely, medically necessary care, should be a priority for both parties.
New regulations developed by the federal government are aimed at requiring health plans to establish a process to update and verify the accuracy of provider directory information in order to cut back on the amount of out-of-date information that one might encounter while attempting to connect with an in-network provider. Additional objectives include assessing the practices of limiting patient care with a pre-defined number of sessions and leaning heavily on short-term treatment practices, and ensuring that patients receive the ongoing care needed without gaps resulting from a lengthy authorization process.
More equitable recognition of mental health professionals related to access and fees should be considered. Currently, they receive lower fees than other medical and health care professionals. Lower rates place counselors in the difficult position to either accept inadequate reimbursement or stop accepting clients, both of which can result in limiting access to qualified professionals, particularly in rural areas. Closing the gap in mental health provider rates to comply with parity laws is critically important.
It is incumbent upon Congress and the Department of Health and Human Services (HHS) to require heath plans to demonstrate that their network adequacy, network admission, provider credentialing, and reimbursement rate-setting practices comply with the Mental Health Parity Act. In addition, Congress may consider authorizing the U.S. Department of Labor—which has jurisdiction over compliance of the Mental Health Parity Act—to impose civil monetary penalties and explore, with HHS enforcement, strategies that will incentivize health plans to comply with the Mental Health Parity Act and network adequacy requirements.
Passage of legislation in these areas would enhance the ability and opportunities for mental health counselors to join insurance and provider networks and earn fair reimbursement for their services. Adoption of strong quantitative metrics and enforcement standards will improve mental health parity programs and access to affordable mental health and substance use disorder care in qualified health plans and employer-sponsored plans.
At the state level, insurance departments and related agencies should be transparent about their oversight efforts, including investigations of parity, network adequacy, and fairness in plan design, including an evaluation of the risk of high deductibles.
NBCC also will engage health plans and insurance companies directly to discuss how counselors and insurers can work together to address problems in managed care that are preventing the appropriate delivery of mental health care to individuals.