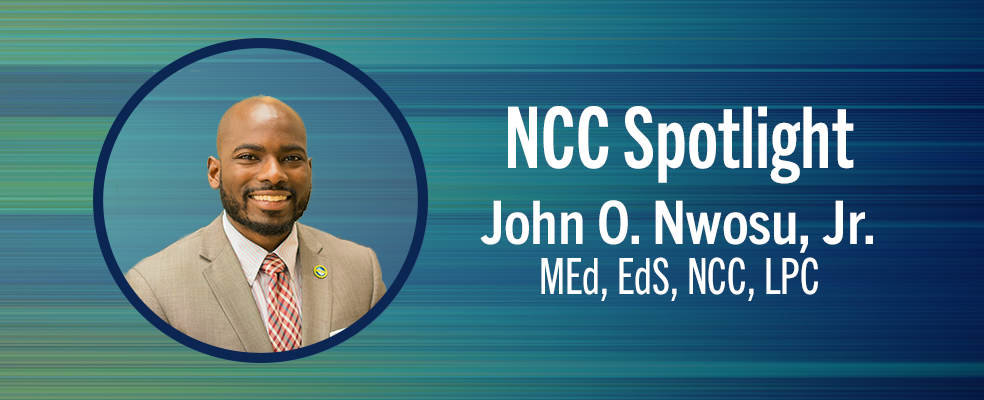 As a young man growing up in the small town of Austell, Georgia, John O. Nwosu, Jr., never envisioned becoming a counselor, much less helping students in the same district where he graduated from high school. For the past 5 years, he has been a school counselor at Garrett Middle School, and in 2021, Cobb County named him Middle School Counselor of the Year.
"I went to college to become a pharmacist because I was looking for the quickest pathway to becoming 'Dr. Nwosu,' and I experienced a quarter-life crisis," he says.
At the time he was pursuing his bachelor's in chemistry while minoring in Africana studies at Georgia Southern University, where he became a member of Alpha Phi Alpha Fraternity, the National Black Graduate Student Association, the Black Student Alliance, and the African Student Government Association.
"Much of the extracurricular student and community involvement work I was doing aligned with the role of school counselor," he says. "Then a perfect storm of events leading up to graduation positioned me to consider counseling as a career. Initially, my wife, Chanelle, who is also a school counselor and therapist, was my primary supporter, and ultimately my parents, friends, and colleagues supported me in exploring this new path."
He went on to earn his master's in counselor education/school counseling and guidance services and his EdS in counselor education, both from Georgia Southern. Then he earned his National Certified Counselor credential and became a member of the American School Counselor Association, Georgia School Counselor Association, and Cobb School Counselor Association, and later served as president of the National Black Graduate Student Association.
Building relationships is one of the aspects he enjoys most about his work, he says, along with the freedom to carve his own path.
"I appreciate the relationships with students and other adults; the respect, collaboration, and support from my administration; the freedom, flexibility, and trust to implement a data-informed, comprehensive program with room to grow and figure things out; and the professional learning opportunities provided by the district," he says.
Nwosu's areas of interest include advocacy, inspirational speaking, multicultural counseling, organizational and study skills, personal and social development, Positive Behavioral Interventions and Supports, race and equity issues, and social justice.
His foremost concern is helping students decide whom they want to become in the future and helping them make decisions that their future selves will appreciate.
"I most commonly deal with the ripple effects of increased stressors in our community and throughout our society," Nwosu says. "This includes both 'normal' middle school challenges related to our three domains—academic, social, and emotional—and career development, making and maintaining healthy peer and adult relationships, effective communication, and various learning and self-management strategies, along with social skills."
COVID-19 brought added challenges and a more urgent need for counseling.
"Initially, a lot of students had families that decided it was best for them to stay home," he says. "Many of our families are multigenerational and have older people who were at higher risk of COVID complications. Virtual learning was challenging for a lot of our students and families. The pandemic exposed gaps in computer literacy. It also emphasized persistent resource gaps. It was difficult for some students to find a safe space or privacy in their homes, and a number of students find school to be the only place where they can be affirmed and supported."
The school transitioned to a hybrid learning environment in October of 2020 with remote learning one day a week, which required everyone to adapt once more.
"There were some powerful insights despite all of these complex challenges," he says. "Wednesdays ultimately were treated more like Saturdays, which was rough for academics but great for the mental health of the students and staff. Next, about 40%–50% of our students returned to in-person learning initially. Our school and climate looked and felt much different, in part because most of our students had to become acclimated, since our eighth graders were the only students who had ever set foot in the building. The other significant reason is that we had the number of students our building was likely designed to accommodate, which meant fewer distractions from learning and opportunities for conflict. This also meant smaller class sizes for those who were in person, even though teachers had to split their attention between face-to-face and virtual students. There was more stress from adults who essentially had to prep twice, and this sometimes added to the cascade of stressors that ultimately trickled down to the students."
At the start of the 2021–22 school year, the school used money from the Coronavirus Aid, Relief, and Economic Security (CARES) Act to add a much-needed additional counselor, which helped tremendously, Nwosu says.
"There were already many needs prior to the pandemic, and I don't know what we would have done without an additional counselor who fits the culture of our school. As we planned for this year, we made sure to include ways to identify stressors/triggers alongside healthy coping skills, understand the role of your school counselor, and how to connect with your school counselor. Additionally, we have been engaged in a lot more conflict resolution using protocols like restorative practices this year."
Although there is no "typical" day at work, understanding the students' basic needs is fundamental, he says.
"It could be anything on any given day, and it's sometimes things that may seem small and insignificant but are making a major difference in that student's life," he says. "As a student (or adult), even if your challenges are not your fault, overcoming them is mostly your responsibility. Your setbacks are valid, but we each have agency we can use to overcome and change the adversities we face. My school is roughly 90% free and reduced lunch, so a lot of times it involves coordinating with the school social worker or other community organizations to make sure our students get what they need," he says. "We also have a parent resource liaison I work with often, and she's great. We have a few different nonprofit organizations that really do a lot of work in terms of offering different types of assistance. We've helped to pay people's rent or helped them get to the school if there's a meeting. We also have an organization called Communities and Schools that has been a major help."
Having difficult conversations is a necessary part of Nwosu's work.

"I really try to give them a space to process what they're experiencing and help them be aware of what's going on in the world," he says, "and then try to get different perspectives on exactly what's happening. A lot of times, students may be talking about certain issues with their friends or getting the message that they shouldn't be talking about them, so I try to give them an opportunity to feel safe to bring up whatever they want to discuss, and I listen and guide the conversation as appropriately as I can. It helps to understand systems and patterns of interaction. When I'm at my best, I'm listening actively, summarizing, and reflecting. I'm also asking for what they need and brainstorming who we need to connect with that could add to the conversion and help meet that student's needs—administration, parents, friends, a staff person, a community member. I try to never work in isolation, show empathy, remain present, affirm that student's experience, and help them process the next steps without allowing them to internalize stereotypes about the groups in which they hold membership. Then I often circle back to include their voice on other initiatives that help improve our school community like peer leadership, student and school counselor advisory councils, surveys and focus groups, student organizations and clubs, et cetera."

Group sessions have been extremely helpful and are something Nwosu particularly enjoys.

"They could be about academics, social and emotional coping skills, anger management, and recently we held what we called social justice circles. We collaborated with a school that had been trained in restorative practices, with their ELA and Social Studies departments. One morning, the students all went to the National Center for Civil and Human Rights in downtown Atlanta. In the afternoon, they came back, and I coordinated with trusted counselors and mental health professionals to deliver content I created for my school counseling and education consulting business, Think D.I.F., LLC. We vetted the volunteers to make sure they had experience with restorative practices, and those counselors led restorative circles on the museum experience. Then we added some context around things that are still happening today like implicit bias, discrimination, and the economic impact of racism. That was something I was really proud of."

Advocating for social justice and equitable access to care is something Nwosu is passionate about.
"There's no such thing as a person without a place," he says. "We live in an ecological system that is a complex, adaptive system, which means everything is interrelated and diversity is essential for sustainability. Our country was founded on a disconnect between aspirational values and actual behavior. We are an incongruent society where most people often find comfort in ignoring this gap. I take advantage of opportunities to help my students understand that no student, staff person, stakeholder, or system is perfect. Ultimately, there's no such thing as social justice without the economic means to secure it and the political means to protect it.
"One of my close friends and colleagues, Jennifer Susko, and I work to increase equity by advocating for important issues at school board meetings, coordinating awareness campaigns, organizing educators and community members, and making sure students and families know their rights," he continues. "We also train school counselors and educators on how to become better change agents. Though it is at times difficult and frustrating, the worst challenges I face are far less severe than the best days many of my ancestors experienced. When I think about this, it makes my barriers seem much more surmountable. I also know that the alternative to not pushing for systemic change is so much worse. Social equity is a lofty goal, but one that we all should be striving to meet. It's impossible to experience, life, liberty, and opportunity for all without access to things like mental health care, dignified employment with a living wage, secure housing, and quality educational opportunities; we don't have enough of those things right now, so we really need to make sure that equity is a priority if we're serious about being patriotic citizens of our country."

He encourages other school counselors to take part in the decision-making process whenever possible.

"I sit on governing bodies responsible for creating policy at my school. It allows me to use data to inform and guide the expectations and rules that are more discretionary. The data also helps me design effective MTMDSS interventions, make recommendations for important initiatives for our school community, and create the conditions for those hard conversations to take place."
As a Licensed Professional Counselor in private practice, he believes that a lack of funding is a hindrance.
"Georgia is simply under-resourced when it comes to mental health practitioners, and especially ones that can support the diverse needs of our community," he says, "so I'm trying to become more and more involved in conversations about how to increase diversity in a pipeline, because we just don't have that many people who are even entering the field, and who would be able to support those specific needs of our community."
He also stresses the importance of helping his students understand the need for diversity in a well-functioning society.
"We need to hear from everyone who is willing to engage in good faith and not exhibiting harmful behaviors. We need to make sure that people are able to collaborate so that we can last as a society and be successful in our efforts. I think that that's what's in our long-term best interest."