Introducing NBCC and Affiliates' VPs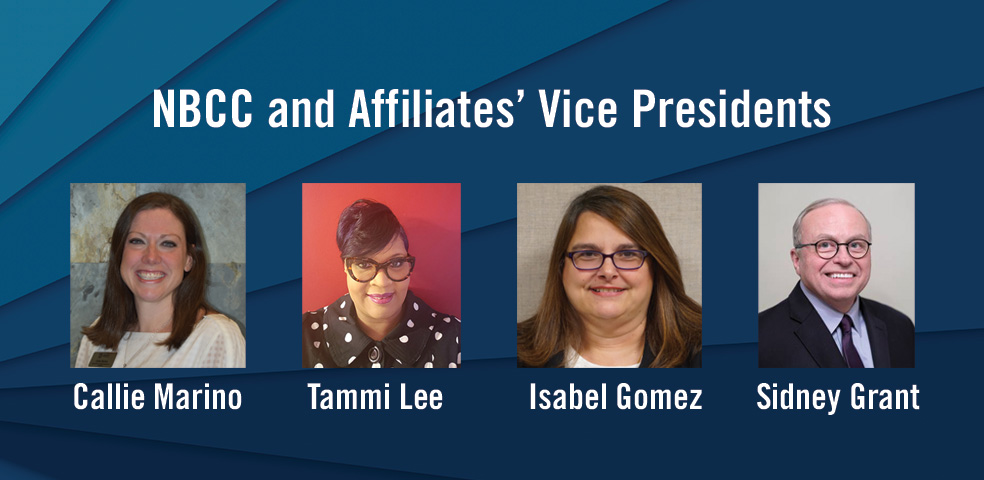 The National Board for Certified Counselors, Inc. and Affiliates announces the filling of four new permanent Vice President positions: Callie Marino, Vice President of Credentialing Services and Quality Assurance; Tammi Lee, Vice President of the Center for Credentialing & Education, Business Services and Partnerships; Isabel Gomez, Vice President of the Foundation and Professional Services; and Sidney Grant, Vice President of Technology and Security Compliance.

"Each of these people brings a wealth of knowledge and experience in their respective areas, and I truly believe that they will be great assets in assisting NBCC to continue to grow and create positive change for the counseling profession," says Rebecca Amburn, Chief Operating Officer of NBCC and Affiliates.

Marino previously served as the Interim Vice President for her division. She will be providing high-level operational leadership with a clear focus on the integrity and effectiveness of assessment, certification, credentialing, and quality assurance processes. She will oversee certification, credentialing programs, assessment development, ethics processes, and the continuing education provider program.

Lee also previously served as the Interim Vice President for her division. She will lead the division through strategic efforts to leverage credentials and services and to expand governmental and organizational partnerships. She will oversee the administration of ongoing services and division responsibilities with a key focus on expanding and improving services provided to state boards and contracted management services partners.

Gomez previously served as the Acting Executive Director for the Foundation. She will oversee strategic capacity building, including scholarships and fellowships; grant administration, expanding access to professional resources for counselors; and promoting access to board certified counselors and community resources. She will be focused on the administration of ongoing services and division responsibilities with an emphasis on the design and development of new departments and programs.

Grant is new to the organization but has an extensive background in systems enhancement. He will oversee strategic development and maintenance of security and compliance, technology, and communications infrastructure. Additionally, he will provide oversight of the wide-ranging contracts integrated into our technology and communications systems, striving to innovate our systems and strengthen security compliance.

Each will also be responsible for the implementation of policy and strategy as articulated by the Board of Directors, CEO, and COO.

"I am looking forward to working with such an innovative and dedicated group," says Amburn.
---
Share On Social Media:
---
Read more articles